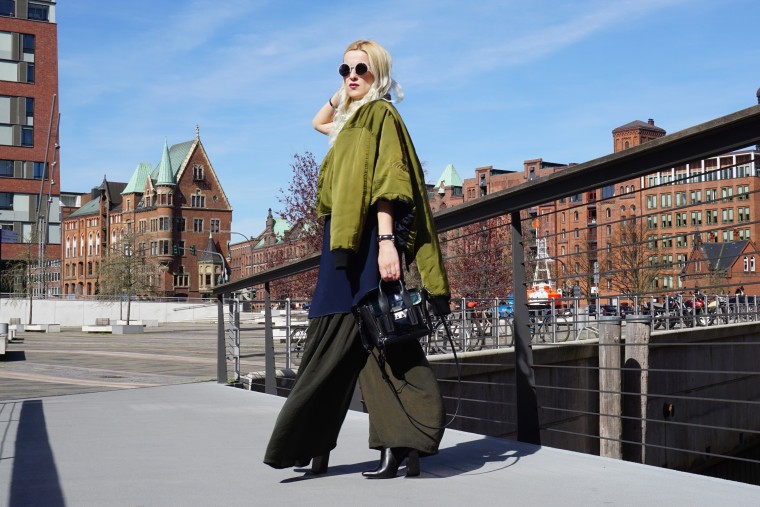 DE
Das Team von Palinapralina ist zur Zeit in Hamburg und natürlich habe ich es mir nicht nehmen lassen bei dem traumhaften Wetter ein neues Outfit für euch zu shooten. Heute zeige ich euch meine traumhafte MM6 Bluse, die ich mir während der Pariser Fashionweek (im Sale natürlich ;)) gekauft habe. Ich liebe Margiela aber muss gestehen, dass mir die Preise oft zu hoch sind und daher bin ich sehr happy, dass es das etwas günstigere Label von Maison Matrin Margiela – MM6 gibt, welches das gewohnte Design zu etwas moderateren Preisen bietet.
Dazu trage ich eine weite seidige Hose, die grade wahnsinnig aktuell ist und meine Vintage Valentino Bomberjacke. Geshootet haben wir das ganze bei traumhaftem Sonnenschein in der Hafencity von Hamburg, Ich hoffe ihr liebt meinen Look genauso wie ich und die sonnige Stimmung kommt auf den Fotos gut rüber!
P.S. Schaut euch mein Video an, der Wind lässt die Kleidungsstücke so schön flattern ;).
Ich trage: Bluse: MMM6, Hose: Zara, Bomber Jacke: Valentino Vintage, Tasche: 3.1 Phillip Lim, Schuhe: New Look, Sonnenbrille: ByWP, Bracelet: Hermes
*Fotos und Video wurden mit der Sony Alpha 6000 aufgenommen.
Eure Palina von PALINAPRALINA.COM
ENG
The team of Palina Pralina is currently in Hamburg and of course I didn't miss the opportunity to shoot a new outfit for you in this wonderful weather. Today I am showing you my stunning MM6 blouse, that I bought during the Paris Fashion Week (on sale of course;)). I love Margiela but must confess that the prices are often too high and so I am very happy that the slightly cheaper label from Maison Margiela, called MM6, which offers the familiar Margiela design for rather moderate prices.
I am combining the blouse with a long silky pants, which is just very up to date and my vintage Valentino bomber jacket. The shoot took place in fantastic sunshine at the port of Hamburg. I hope you love my look and the sunny spirit is being transported in the photos!
P.S. Watch my Video, the wind makes the cloths fly :).
I am wearing: Blouse: MMM6, Pants: Zara, Bomber Jacket: Valentino Vintage, Bag: 3.1 Phillip Lim, Shoes: New Look, Sun glasses: ByWP, Bracelet: Hermes

*Photos and Video were shot with a Sony Alpha 6000 camera.
Your Palina from PALINAPRALINA.COM
[bw-video id="1083″]
SHOP MY LOOK: