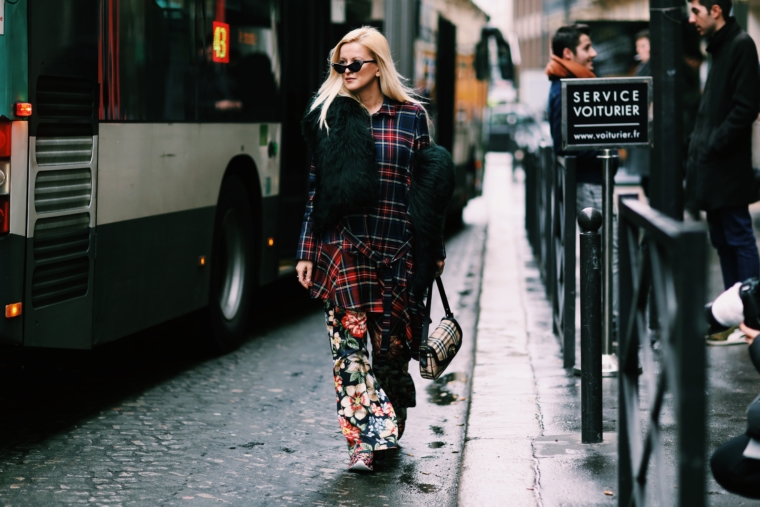 DE
Ich habe bereits im letzten Jahr (HIER) geschrieben wie wichtig der Tartanmuster-Trend in Zukunft wird. Nun ein paar Monate später ist er voll da und Designer wie Burberry haben das Schottenmuster sowie das klassische Burberry Muster wiederbelebt. Burberry bspw. geht dafür weit in seiner Geschichte zurück und verwendet das persönliche Muster der Queen von England: Das Modern Steward Royal Tartan.
Das Muster ist klassisch auf der einen Seite aber gibt gleichzeitig jedem Look einen gewissen Pep. Ich trage auf den Fotos ein asymmetrisches Blusenkleid in einem blauen Tartanmuster von Zara. Dazu eine Dunkelgrüne Fellweste von MARNI sowie eine Blumenhose ebenfalls von Zara. Der Mix aus Schotten- und Blumenmuster liegt voll im Trend und ist in der aktuellen Saison ein Must!
Auch das ganz klassische Nova Check Muster von Burberry feiert sein Comeback und daher trage ich eine Vintage Burberry Tasche, die auf der Pariser Fashionweek unheimlich gut ankam. Schaut euch hierzu gern bei Ebay um. Die Taschen sind aktuell noch nicht in Jedermanns Kopf und daher noch günstig zu haben.
Meine crazy Zara Sneaker runden den Look ab und die Vintage Linda Farrow in Cat Eye Optik wurden in der Form auch von Balenciaga diese Saison aufgegriffen. Auch hier findet ihr günstige Alternativen bei Ebay von Namenhaften Designern der 90'er.
Bei allem Mustermix und Vintage Style sticht meine goldene Fiaba von Maurice Lacroix edel heraus. Ihre klassische, unverkennbare und unaufdringliche Form passt einfach zu jedem Style und wertet ihn ungemein auf und rundet ihn ab. Die Fiaba ist aktuell meine Lieblingsuhr, da sie überall eine perfekte Figur macht!
Lasst mich wissen wie ihr zu dem Style steht!
Fotos: Jeremy Möller von jmstreetstyles
Eure PALINA KOZYRAVA
[follow]
ENG
I wrote last year already (HERE) how important the tartan pattern trend will be in the future. Now, a few months later, designers like Burberry have revived the tartan and classic Burberry patterns and the trend is here! Burberry, for example, goes back a long way in its history and uses the personal pattern of the Queen of England: the Modern Steward Royal Tartan.
The pattern is classic on the one hand, but at the same time it gives every look the certain something if you know what I mean. I am wearing an asymmetrical blouse dress in a blue tartan pattern by Zara in the photos, as well as a dark green fur vest by MARNI and a flower pants by Zara. The mix of Scottish and floral patterns is a huge fashion trend currently and is a must have for you guys this season!
Even the very classic Nova Check pattern from Burberry celebrates its comeback and therefore I am wearing a vintage Burberry bag, which created quite a buzz during the Paris fashion week. Take a look at these bags on Ebay. The bags are currently not in everyone's head and therefore still cheap to get.
My crazy Zara sneakers make the Look perfect and the vintage Linda Farrow in Cat Eye optics have also been picked up by Balenciaga this season as well. Again, you will find cheap alternatives regarding the shades on Ebay by renown designers of the 90's.
Besides all the pattern mix and vintage style, my golden Fiaba by Maurice Lacroix stands out fine & noble. It's classic, unmistakable and unobtrusive shape just goes fine with any style, enhances it immensely and completes it after all. The Fiaba is currently my favorite watch, because it makes a perfect figure everywhere!
Let me know how you like the style!
Photos: Jeremy Möller from jmstreetstyles
Your PALINA KOZYRAVA
SHOP MY LOOK