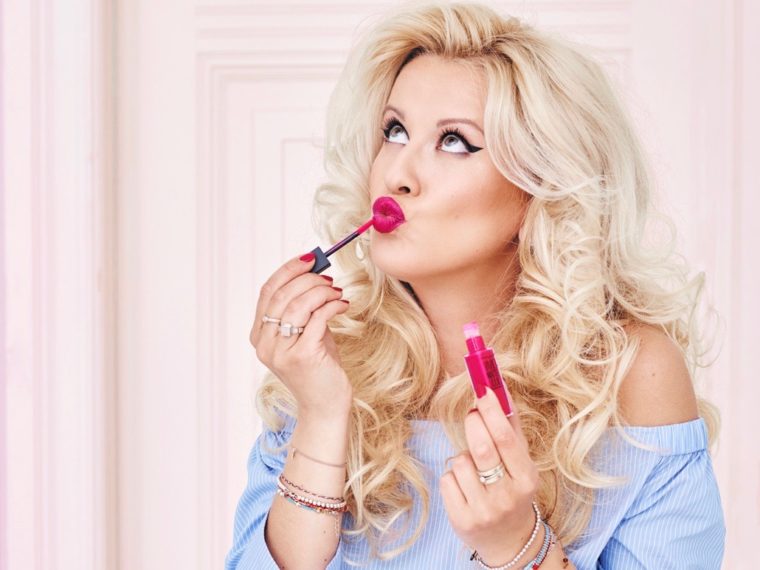 *Sponsored by Maybelline
DE
Vor ein Paar Tagen war ich in Berlin auf dem Color Battle Event von Maybelline eingeladen. Gemeinsam mit ein paar Mädels wurde mir der neue VIVID MATTE LIQUID Lippenlack vorgestellt. Der Matt Look für die Lippen ist ja grade ein riesiger Trend und umso mehr habe ich mich gefreut einen genaueren Blick auf den Lippenlack werfen zu können.
Um ihn zu testen erhielten wir vor Ort eine besondere Aufgabe: Wir sollten eine (unserer Persönlichkeit entsprechende) Farbe wählen und ein Outfit shoppen, dass dazu passt. Überflüssig zu sagen, dass ich in der Aufgabe richtig aufgegangen bin und irgendwie war es ja klar, dass ich mich für ein knalliges Pink, genauer gesagt "Electric Pink", entscheide oder? :D
Mit dem knalligen Lippenstift in der Tasche ging es dann in die Galerie Lafayette in der Berliner Innenstadt. Mein (viel zu) gut geübtes Shopping-Auge :P hatte nach wenigen Minuten das perfekt passende Piece gefunden. Ein wunderschöner, weit ausgestellter XL Rock in Pink! Zusammen mit dem Lippenstift und einem crazy-curly-hair Styling ist anschließend ein Look entstanden, der sich wirklich sehen lassen kann.
Bei dem Shooting sind wirklich tolle Bilder entstanden und das Event war nicht zuletzt wegen der tollen Mädels (ich war übrigens die einzige Bloggerin unter den vielen Youtuberinnen) ein riesiger Spaß. Ich hoffe euch gefallen die Fotos und ihr habt Lust bekommen, den Lippenstift einmal selbst auszuprobieren und ein Outfit dazu zu kreieren.
Eure PALINA KOZYRAVA
FOLLOW ME ON INSTAGRAM & SNAPCHAT: palinapralina
ENG
A couple of days ago I was invited to Berlin for the Color Battle Event of Maybelline. Together with some other girls we were able to test and experience the all new VIVID MATTE LIQUID lipstick. 
To test the lipstick we received a special task: We were supposed to choose a color that matches our personality and shop an outfit to create an unforgettable Style. Needless to say that I loved the task and somehow it was clear that I would go for a crazy pink, precisely "Electric Pink".
With the bright lipstick in my pocket we went to the Galeries Lafayette in Berlin's city center. My (way too) well-trained shopping-eye: P found the perfect fitting piece within a minute: A beautiful, wide flared XL skirt in Pink! I think, together with the lipstick and a crazy-curly-hair styling a very unique and cool Look was created that really underlines the wildness of the Lipstick.
That day we shot some great pictures and the event was especially because of the cool girls (I was the only blogger among many Youtube influencers) a lot of fun. I hope you enjoy the photos and that you are eager to try the lipstick yourself!
Your PALINA KOZYRAVA