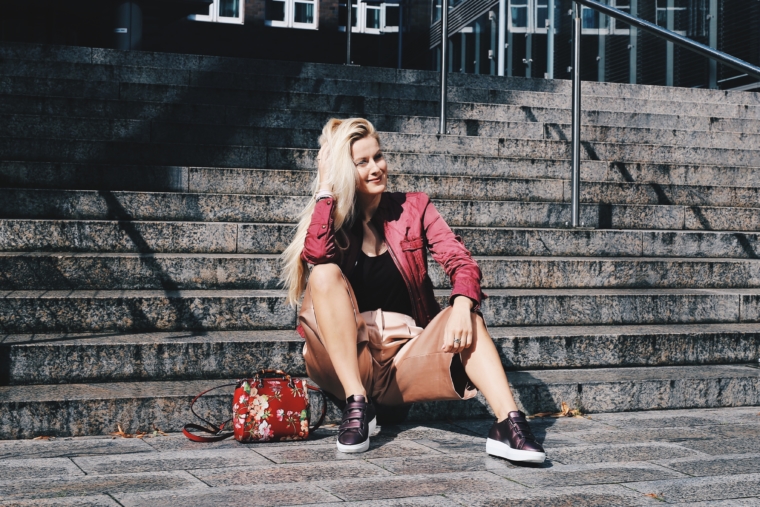 DE
Wie ich in einem meiner letzten Artikel bereits angekündigt habe, steht der Herbst nicht vor der Tür sondern hat schon mindestens einen Fuß in selbiger. Daher stelle ich euch in den kommenden Wochen die aktuellsten Trends für die Herbst/Winter Saison vor.
Für uns Frauen immer von größter Bedeutung sind natürlich die Schuhe! Bordeaux-Rot ist für mich die ultimative Trendfarbe für die kommende Saison, daher habe ich mir bei Högl einen sehr coolen, hochwertigen Sneaker in dieser Farbe ausgesucht. Satt Schnürsenkeln bindet man den Sneaker mit jeweils drei Klettverschlüssen zu – bequem zum einen und ein bisschen 90's flair aber die sind bekanntermaßen sehr angesagt!
Dazu trage ich eine Vintage Jacke in der gleichen Farbe von Boss Orange, eine weite Culotte Hose in einem Roseton, sowie ein Bordeaux-Rotes top. Insgesamt ist ein sehr schöner casual Look entstanden, der am besten in ein urbanes Setting passt.
Ihr habt Lust auf Bordeaux Töne und schöne Sneaker bekommen? Schaut bei Högl vorbei und klickt euch durch meine Shoppingempfehlungen!
Eure PALINA KOZYRAVA
ENG
As I told you in my last article, the autumn is not at the door but has already at least one foot in it. Therefore, I will present you the latest trends for the autumn/winter season in the coming weeks.
For us women the shoes are always of the utmost importance, of course! Bordeaux red is for me the ultimate trend color for the upcoming season, so I chose a very cool, high-quality sneaker in this color from Högl. Instead of laces you find three hook-and-loop fasteners attached to the sneaker – comfortable on the one hand and a bit of 90's flair on the other – that's trendy!
I am combining the shoes with a vintage jacket in the same color of Boss Orange, wide Culotte trousers in a rosetone, as well as a Bordeaux-red top. Overall, a very nice casual look has emerged, which fits best in an urban setting.
You want to get more Bordeaux tones and nice sneakers? Check out the Högl online Store and click through my shop recommendations!
Your PALINA KOZYRAVA
SHOP MY LOOK