DE
Ich möchte euch heute einen kleinen Guide zu den wichtigsten Trends des Frühjahrs vorstellen, damit ihr euch schon einmal darauf einstellen könnt, was die Must Haves und meine persönlichen Favoriten für die upcoming Season sind.
Im Folgenden fasse ich meine Favoriten, die ich teilweise selbst auf Shows in Paris gesehen, und teilweise aus dem Internet für euch zusammengetragen habe, zusammen. Zu jedem Trend erkläre ich kurz was mir daran besonders gefällt und wieso er unverzichtbar ist.
ENG
Today I'd like to introduce you to a little guide to spring's key trends so you are prepared for the Must Haves are and my personal favorites for the upcoming season.
In the following I summarize my favorites, some of which I have seen during shows in Paris, and partly have been compiled for you from the internet. For each trend, I explain briefly what I like it and why it is essential.
---
DE
Der Trend ist bereits seit mehreren Saison en vogue allerdings werden die Farben für dieses Frühjahr noch greller und fröhlicher. Außerdem werden auf den Catwalks verschiedene Blumenmuster kombiniert und somit ergibt sich ein wirklich cooler und moderner Look. Es ist erlaubt und sogar erwünscht wild zu mixen, bspw. die Bluse und Rock in verschiedenen Mustern zu kombinieren. Traut euch!
ENG
The trend has been en vogue for several seasons, but the colors for this spring are even brighter and happier. In addition, different floral patterns are being combined on the catwalks, resulting in a really cool and modern look. It is allowed and even desirable to wildly mix, for example to combine the blouse and skirt in different patterns. Dare to do it!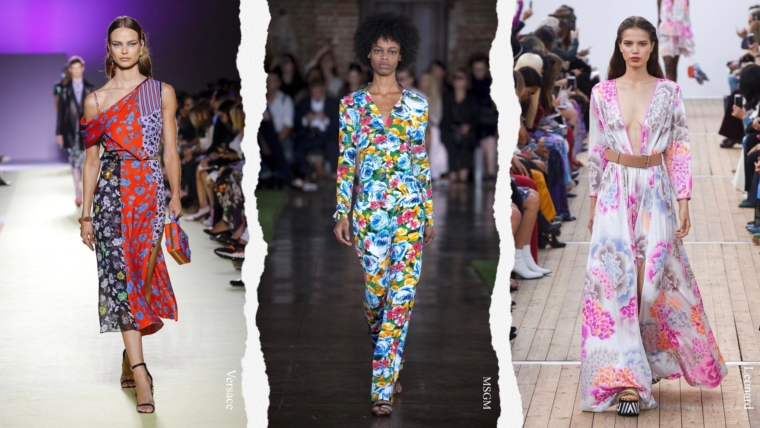 ---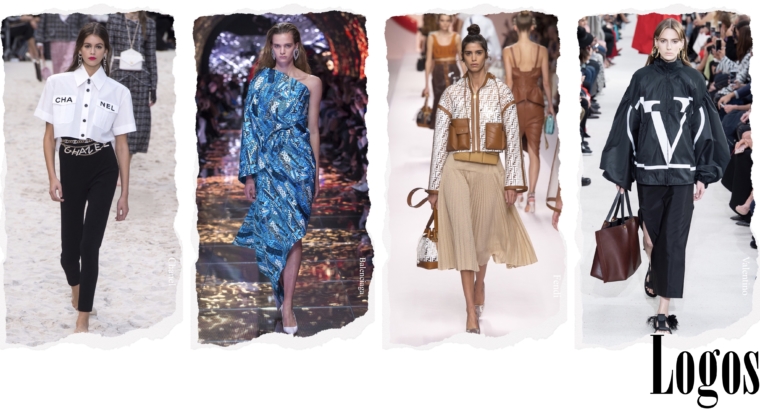 DE
Jahrelang war es verpönt, die Marke plakativ zu präsentieren und die Logos wurden immer kleiner oder verschwanden schließlich ganz. Diese Zeiten sind jedoch vorbei! Egal ob deutlich lesbar in der Mitte oder komplett über das gesamte Kleidungsstück verteilt, es ist wieder im Trend Logos und Schriftzüge der jeweiligen Marken zu zeigen. Egal ob auf Socken, Tasche oder klassisch auf dem Shirt, Logos sind wirklich überall zu finden. Fendi, Chanel, Valentino etc. – alle sind dabei und sich trendy zu kleiden wird dadurch leider wieder in kleines bisschen teurer. Mein Tipp: Schaut in den Vintage Stores vorbei! Dort findet ihr das ein oder andere Designer Teil aus den 90ern mit Logoprints, denn der Trend ist ein revival.
ENG
For years, it was undesirable to showcase the brand and the logos were getting smaller and smaller, and eventually disappeared altogether. These times are over! Whether clearly legible in the middle or completely distributed over the entire garment, it is again trendy to show logos and signs of the respective brands. Whether on socks, bag or on the shirt, logos are really everywhere. Fendi, Chanel, Valentino etc. – all are there and to dress trendy is unfortunately again a little bit more expensive. My tip: Stop by at the Vintage Stores! There you will find one or the other designer piece from the 90s with logo prints, because the trend is basically a revival.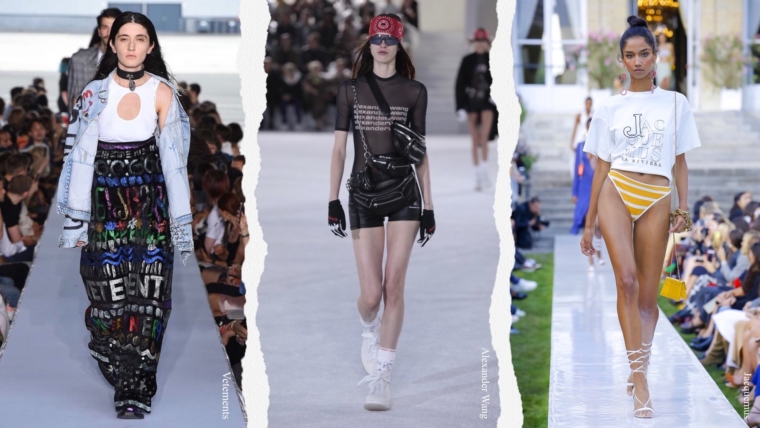 ---
DE
Egal ob Body, Sakko, Kleid oder Jeansjacke die Schultern sollten für das Frühjahr in bester 80'er Manier groß sein. Sie können entweder ausgepolstert -, kantig modelliert sein oder einfach durch den oversized Schnitt ausladend wirken. Egal wie der Designer es macht, die Wirkung ist die Gleiche: Es entsteht eine spannende und oft kantige Silhouette, die eine gewisse Dramatik mit sich bringt. Mein absoluter Favorit sind die Mäntel von Balenciaga: Feminin aber trotzdem stark und unnachgiebig in ihrer Wirkung. Ich werde auf jeden Fall versuchen einen zu ergattern!
ENG
No matter if it's a bodysuit, blazer, dress or denim jacket, the shoulders should be big in the spring- reminding me of the 80's. They can either be upholstered, edged or simply have an expansive effect by the oversized cut. No matter how the designer does it, the effect is the same: it creates an exciting and often edgy silhouette, which brings a certain drama with it. My absolute favorite are the coats of Balenciaga: Feminine but still strong and unyielding in their effect. I will definitely try to get one!
---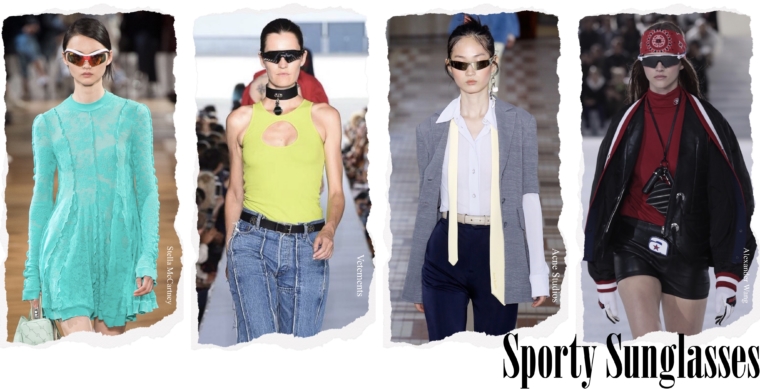 DE
Für diesen Trend muss man in jedem Falle ein gesundes Selbstbewusstsein mitbringen. Ihr tragt gerne Brillen wie Rennradfahrer bei der der Tour de France? Super, dann seid ihr voll im Trend! Vollverspiegelt, Bügel aus Gummi und Formen als seien sie für den Windkanal konzipiert. Ich kombiniere die Brillen gerne zu einem sehr edgy Streetstyle, mit einem Hoodie oder aber als Kontrast zu einem ausgefallenen Blumenkleid.
ENG
For this trend you have to have a healthy self-confidence in any case. You like to wear glasses like racing cyclists in the Tour de France? Great, then you are trendy! Fully mirrored, rubber temple and shapes as if they were designed for the wind tunnel. I like to combine the glasses with a very edgy street style, with a hoodie or as a contrast to a fancy floral dress.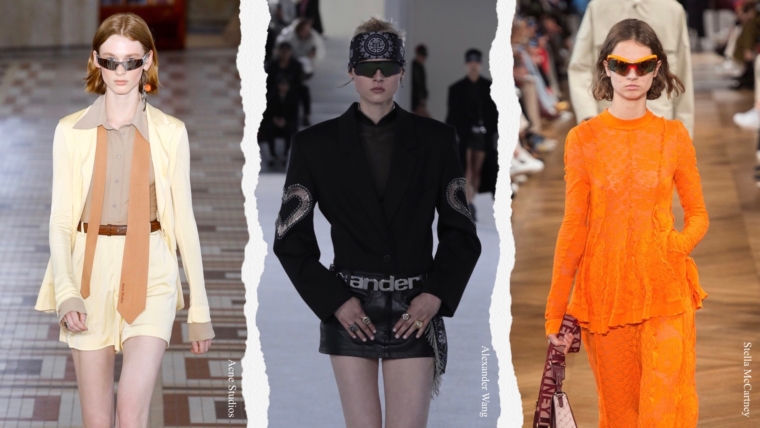 ---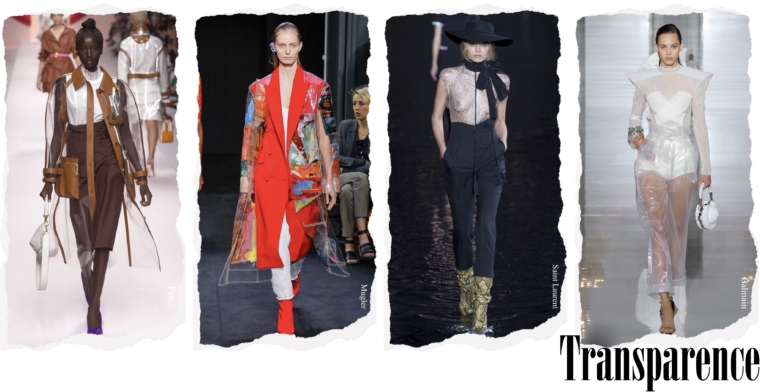 DE
Zeigt was ihr habt könnte dieser Trend auch heissen. Der See through Effekt steht hier im Vordergrund und greift wirklich auf alle nur erdenklichen Kleidungsstücke über. Dabei werden von den Designern verschiedenste Materialien verwendet. Die Variantenvielfalt reicht von PVC Regenmänteln, Handtaschen oder Schuhen aus dem gleichen Material, bis hin zur ganz klassischen Spitze oder Chiffon. So oder so: Es wird viel gezeigt und somit entsteht ein sehr aufregender Effekt. Auf den Laufstegen tragen die Models nichts drunter, dass ist natürlich für uns keine Option. Daher würde ich bspw. einen besonders schönen BH empfehlen. So kommt die teure Unterwäsche auch endlich mal zum Einsatz ;).
ENG
Show us what you got could be the name of this trend. The see through effect is here in the foreground and really takes on all imaginable garments. The designers use a variety of materials. The variety ranges from PVC raincoats, handbags or shoes made of the same material, to the very classic lace or chiffon. Either way: There is a lot of showing and thus it creates a very exciting effect. The models wear nothing underneath on the catwalks, which of course is not an option for us. Therefore, I would recommend, for example, a particularly beautiful bra. So the expensive underwear is finally used after all ;).
---
DE
Biker Overall, Blaumann und Cargohose sind nicht mehr nur besonders nützlich im Arbeitsalltag sondern gut kombiniert auch echte Fashion Pieces. Der Utility Trend hat unendlich viele Facetten die letztlich alle gemeinsam haben, dass sie Arbeitskleidung mit Fashion verbinden. Besonders angetan haben es mir die Motorrad Overalls aus Leder bspw. von Celine.
ENG
Biker Overall and Cargo Pants are not only very useful in everyday work but also real fashion pieces. The Utility trend has an infinite number of facets that ultimately all have in common that they combine work wear with fashion. I especially liked the motorcycle overalls made of leather, for example by Celine.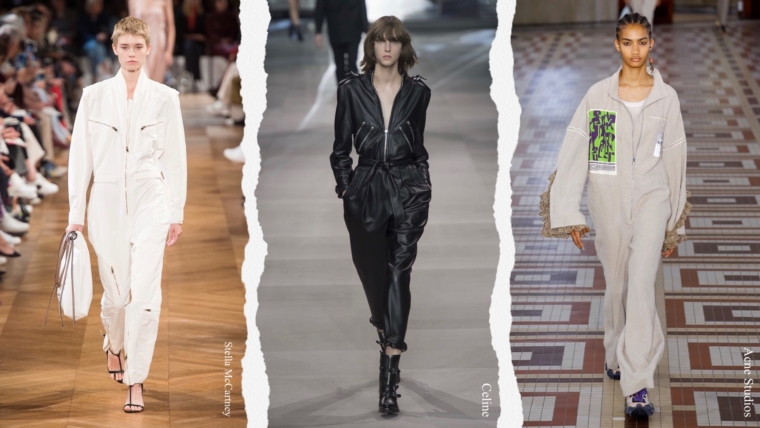 ---
DE
Ich hoffe ich konnte euch heiß auf die neuesten Trends für das Frühjahr 2019 machen und ihr habt richtig Lust auf Mode! Für mich geht es übrigens ende des Monats schon wieder nach Paris – diesmal für die Trends des nächsten Jahres, und ich werde mein bestes geben, für euch die schönsten Pieces herauszusuchen. Falls ihr selbst Lust habt, Paris während der Fashion Week zu entdecken: Thalys hat für den Februar ein riesiges Kontinent an extra günstigen Tickets freigegeben! Ich bin auf jeden Fall dabei, vielleicht sieht man sich :-*
Eure PALINA KOZYRAVA
[follow]
ENG

I hope I was able to make you excited about the latest trends for the spring of 2019 and you really feel like I do about fashion! Incidentally, I'm back in Paris by the end of the month – this time for next year's trends, and I'll do my best to pick the most beautiful pieces for you again. If you want to discover Paris during Fashion Week, Thalys has released a huge continent of extra cheap tickets for February! I'm definitely getting some for us, maybe I see you guys there :-*
Your PALINA KOZYRAVA