DE
5 Days in Berlino! Früh am Morgen ging es für mich schon los und ich fuhr von meinem Hotel, in Richtung Mercedes Benz Zelt am Pariser Platz. Es war meine erste Fashion Week in Berlin, da ich ja lange Zeit in Paris gewohnt habe und dort einfach mehr Kontakte hatte, war ich bis jetzt zur Modewoche immer in meiner alten Heimat. Dieses Jahr hat mich Tracdelight (mein Affiliate Partner), mit denen ich sehr gern und erfolgreich seit einiger Zeit arbeite, eingeladen die Shows auf der Berliner Modewoche zu besuchen und ich habe die Einladung natürlich mit Freude angenommen.
Ich habe in den 5 Tagen Fashion Week viel erlebt und möchte euch an meinen Eindrücken, sowohl den positiven als auch negativen Teil haben lassen.
Die meisten Shows finden in der selben Location statt: Einem riesigen Zelt mit einem größeren und kleineren Runway. Das hat einerseits den Vorteil, dass man nicht von Show zu Show durch die ganze Stadt hetzen muss. Andererseits können die Designer die Location nur minimal verändern und somit geht viel von dem Überraschungseffekt, den Fashionshows eigentlich immer haben, verloren. Ist man einmal im Zelt drin, ist man sofort umgeben von Sponsoren-Ständen, die mit Mode eigentlich nicht wirklich viel zu tun haben. Wenn man sich aber außer für Mode noch für Hochdruckreiniger oder Schreibwaren interessiert, war man hier genau richtig :D #Kärcher #Herlitz.
Die Crowd in Berlin ist etwas eigen. Entweder man mag es oder man mag es nicht. Ich weiß, wenn man Fernsehen schaut oder Hochglanzmagazine aufschlägt wird einem vermittelt, dass auf der Berliner Fashion Week nur die tollsten Leute ein und ausgehen, und, dass alles glitzert und so wahnsinnig glamourös ist. Mädels: Das ist nicht der Fall!
Einige Leute sind cool, JA! Einige Shows sind gut, JA! Aber wenn man etwas genauer hinschaut, geht es dort eigentlich nur ums Geld, um Sponsoren, Medienaufmerksamkeit und nur ein ganz kleines bisschen um Mode. Die Prominenz besteht aus Nacktmodels und Castingshow-Teilnehmern, die meinen, ein tiefer Ausschnitt und ein kurzer Rock wäre Mode :D.
Ich halte mich für nichts besseres, aber ich beschäftige mich mit Mode und möchte nicht mit solchen Leuten und deren Entourage in einen Topf geworfen werden. Ja, ich war im gleichen Zelt und auf den gleichen Shows. Aber mir geht es darum euch Modetrends zu zeigen, einen Einblick in diese Welt zu geben, und nicht meine Brüste in die Kamera zu halten und um jeden Preis aufzufallen. All diese Promis haben sicher ihre Daseinsberechtigung – aber eben definitiv nichts mit Mode zu tun.
Auch die Designer haben bei mir ein sehr gespaltenes Bild hinterlassen. Insgesamt habe ich 13 Shows verschiedenster Designer besucht. Manche haben gezeigt, dass Berlin Avantgarde und Fashion Forward sein kann, andere haben sich bis auf die Knochen blamiert. Ich habe lange überlegt ob ich hier auf jede Show eingehen soll aber zum einen denke ich, dass es für euch zu langweilig wäre und zum Anderen bin ich ein positiver Mensch und möchte mich nicht über Designer lustig machen, denn Geschmäcker sind bekanntermaßen unterschiedlich.
Dementsprechend habe ich euch meine Top 4 der Berliner Fashionweek zusammengestellt und hoffe, ihr findet die Shows genauso inspirierend wie ich!
Eure Palina von PALINAPRALINA.COM
ENG
5 Days in Berlino! The Fashion week started for me very early and I drove from my hotel, towards the direction of the Mercedes Benz  Fashion-Tent near the Pariser Platz. It was my first Fashion Week in Berlin. As you may know, I have lived a long time in Paris so I used to attend the Fashion Week in my old hometown until now. This year Tracdelight (my Affiliate Partner), which is a company that I am working with successfully for some time, invited to attend the shows of Berlin Fashion Week and of course I accepted the invitation with pleasure. 
I have experienced a lot in the 5 days during Fashion Week and would like to share my both positive and negative impressions with you guys. 
Most shows are held in the same location: A huge tent with a bigger and a smaller runway. On the one hand, this has the advantage that you do not have to rush from show to show through the city. On the other hand, the designer can change the location very little thus you loose quite much of the surprise effect that fashion shows normally have. Once you are in the tent inside, you are immediately surrounded by sponsor booths that have not much to do with fashion. But if one is interested in high pressure cleaning machines or writing utilities, you were exactly right here :D #Kärcher #Herlitz.
The crowd in Berlin is special for sure. Either you like it or you do not like it. I know that if you watch TV or open glossy magazines you might get the impression that everything is so incredibly glamorous but girls: This is not the case.
Some people are cool, yes. Some shows are good, yes. But if you take a closer look, it's really all about the money, the sponsors, media attention, and only a little bit about fashion. The star roster consists of nude models and talent show participants who think a deep neckline and a short skirt is high fashion :D.
I consider myself nothing better, but I am concerned with fashion and do not want to be thrown in the same box with such people and their entourage. Yes, I was in the same tent and yes, I attended the same shows. But I'm about showing you fashion trends, offering an insight into this world, and not about pushing my breasts into the camera lenses and standing out at all costs. All these celebrities have certainly their right to exist – but definitely nothing to do with fashion after all.
The designers have left a very ambivalent picture in my opinion. Overall, I attended 13 shows of various designers. Some have shown that Berlin can be avant-garde and fashion forward, others have disgraced themselves to the bone. I have lengthy considered if I go into detail on every show but on the one hand I think it would be too boring for you guys and on the other hand I am a positive person and would not like to make fun of designers, because tastes are known to be different. 
Accordingly, I have compiled my top 4 shows of Berlin Fashion Week for you and hope you find the shows just as inspiring as I do.
Your Palina from PALINAPRALINA.COM

[bw-video id="835″]
MARC CAIN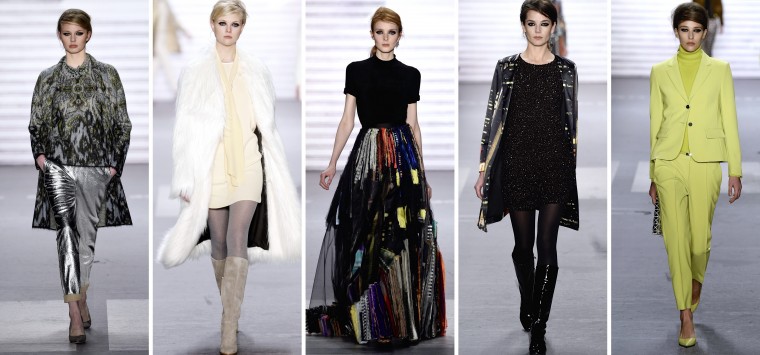 DE
Das bekannteste Label war sicherlich MARC CAIN. Zu dieser Show waren unter Anderem Top Stars wie Liz Hurley und Katie Holmes geladen. Außerdem habe ich dort die wunderschöne Chiara Ferragni getroffen (eine richtig coole und liebeswerte Frau übrigens). Neben den Stars bot das Label eine klasse Show! Die MARC CAIN Kollektion habe ich als eine Art Hommage an die 60'er Jahre verstanden. Moderner Retro Chic traf auf Swinging Sixties. Insgesamt eine sehr schöne und unkomplizierte Kollektion die weniger einen Ausblick auf die Zukunft gibt als einen wunderschönen Gegenwartslook präsentiert. Besonders gefreut habe ich mich meine Schulfreundin Nina (die weltweit die Laufstege erobert) bei der Show auf dem Catwalk gesehen zu haben. Auf dem Bild oben ist sie die zweite von Rechts. I'm proud of you girl!
ENG
The most known label was certainly MARC CAIN. At this show I was able to spot (among others) top stars like Liz Hurley and Katie Holmes. Also, I had the opportunity to meet the beautiful Chiara Ferragni, who is a really cool and lovely lady, by the way. I understood the MARC CAIN collection as a kind of homage to the '60s. Modern Retro Chic met Swinging Sixties. Overall it was a nice and simple collection, which gave less an outlook on the future then presenting a nice look of the present days. My personal highlight was seeing my old friend Nina from highschool (who is an international model nowadays) on the Catwalk! On the picture she is the second from the right. I'm so proud of you girl, keep it up!
*photos: marc cain
GLAW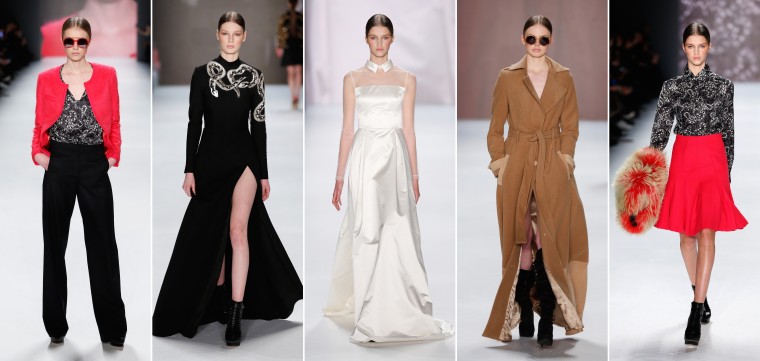 DE
Ebenfalls bekannt und beliebt ist das Label GLAW. Das Designer Team wurde offensichtlich von der Symbolik und Mythologie der Schlange inspiriert und verwendete diese Symbole immer wieder auf verschiedenen Kleidungsstücken. Materialien wie Leder und Seide wurden schön kombiniert und mit Steinen und Pailletten pompös verziert. Dadurch, dass mehrere Designer an der Kollektion beteiligt sind, fallen die Stücke sehr facettenreich aus. Ich habe viel von der Kollektion erwartet und diese Erwartungen wurden alle erfüllt. Vor allem die Sonnenbrillen waren einfach nur genial! Gute Arbeit!
ENG
Also known and loved is the label GLAW. The design team was obviously inspired by the symbolism and mythology of the snake. Materials such as leather and silk were beautifully decorated and pompous combined with stones and sequins. Due to the fact that several designers were involved in the collection, the pieces came out very diverse. I expected much of the collection, and these expectations were met. In particular, the sunglasses were just awesome! Good work!
*photos: getty images
ODEUR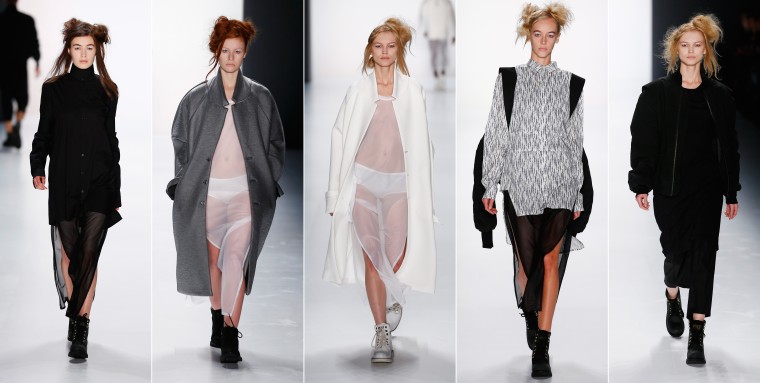 DE
Großartig präsentierte sich auch das Label ODEUR.  Vor 8 Jahren in Stockholm gegründet steht die Marke für klare, kühle Formen und moderne Schnitte. Die Kollektion hat sehr meinen Geschmack getroffen und sollte ich einmal Kleidung von ODEUR in einem Store entdecken, würde ich sofort zuschnappen. Besonders beeindrucken waren die transparenten Stoffe und die klare Einfachheit der Stücke. Meiner Meinung nach die Beste Kollektion der Berliner Fashion Week die auch Laufstege wie Mailand, New York oder Paris nicht scheuen muss. Die Schönheit und Besonderheit liegt eben manchmal in der Simplizität und Klarheit.

ENG
Greatly presented was also the collection of the label ODEUR. Founded 8 years ago in Stockholm the brand stands for clear, cool shapes and modern cuts. The collection has greatly met my taste and should I ever find clothes from ODEUR in a store again, I would buy them instantly. Particularly impressive were the transparent pieces and the clear simplicity of the collection. In my opinion it was the best collection of the Berlin Fashion Week. ODEUR should not be afraid of the catwalks in Milan, New York or Paris. The beauty and uniqueness sometimes lies precisely in the simplicity and clarity.
*photos: Mercedes-Benz Fashion Week
SOPOPULAR
DE
Eine der stärksten Kollektionen zeigte das Berliner Label SOPOPULAR. Es war die erste große Runway Show des jungen Designers und man kann sagen, dass er eigentlich alles richtig gemacht hat. Der Titel der Show war "Revolution Noir" und tatsächlich zeigte die Mode starke Avantgardistische Einflüsse. Vor allem die Materialien boten einen tollen Kontrast: Plastik und beschichtete/ gewachstes Baumwolle traf auf Cashmere und Leder. Die Mode wurde zwar von männlichen Models präsentiert aber androgyne Looks liegen zur Zeit voll im Trend und die Grenzen zwischen Männer und Frauenmode verschwimmen immer mehr. Insgesamt eine tolle Kollektion aus der man sich gute Inspirationen für seinen eigenen Look herauspicken kann.
ENG
The Berlin based label SOPOPULAR presented one of the best collections. It was the first major runway show of the young designer and one can say that he has done everything right. The title of the show was "Revolution Noir" and actually it reflected strong fashion avant-garde influences. In particular, the materials provided great contrast: Plastic and coated / waxed cotton met cashmere and leather. The fashion was indeed presented by male models but androgynous looks are currently very trendy and the boundaries between men and women's fashion continues to blur. Overall, a great collection from which you can pick out good inspiration for your own look.
*photos: SOPOPULAR

DE
Abschließend kann ich sagen, dass ich eine tolle und aufregende Zeit in Berlin hatte und viele tollen Menschen getroffen habe, die mich sicherlich auf meinem zukünftigen Weg noch begleiten werden. Ich hoffe euch gefällt meine Review und ihr schaut euch mein Video an!
Bis bald! Eure Palina
ENG
In conclusion, I can say that I had a great and exciting time in Berlin and I have met a lot of great people who will certainly accompany me on my future path. I hope you like my review and don't forget to watch my video!
Kisses! Palina