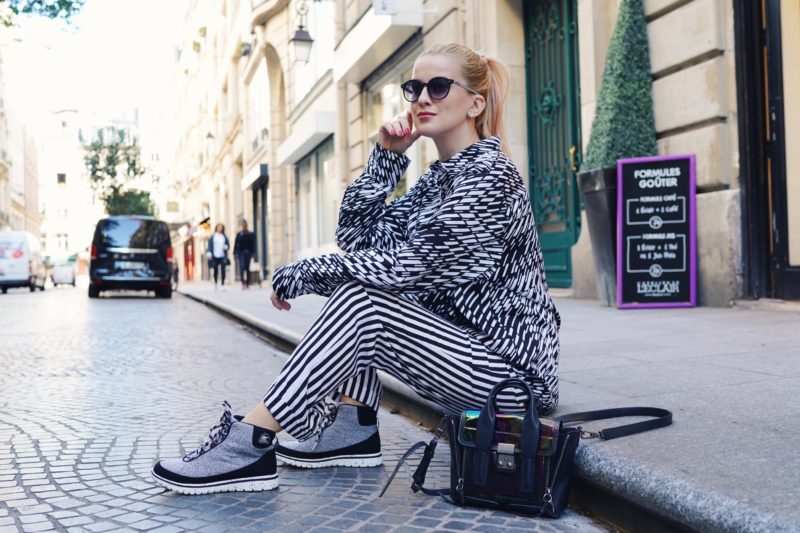 *Sponsored by Eterna
DE
Der heutige Beitrag steht ganz im Zeichen des Mustermix. Schwarz und Weiß sind prinzipiell Farben bei denen man wenig falsch machen kann. Mutiger wird es schon wenn man zwei verschiedene Muster miteinander kombiniert, denn es entsteht ein unruhiges aber ungleich spannenderes Gesamtbild.
Meine coole Bluse von Eterna ist das Centerpiece des Looks und sieht edel und hochwertig aus. Das Muster ist dabei uneinheitlich gehalten. Statt nun beim Rest des Outfits bspw. Schwarz zu verwenden, kombiniere ich die schöne Bluse mit einer Schwarz Weiß gestreiften Hose von H&M.
Auf den ersten Blick mag das Outfit wie ein Pyjama aussehen. Auf den zweiten Blick aber ist es ein sehr modischer, moderner Style der sicherlich einen gewisse Mut erfordert aber eine starke Wirkung hat.
Geshootet haben wir den Look während der Fashion Week in den Straßen meiner Lieblingsstadt Paris mit der Sony Alpha 7RM2.
Unten habe ich euch einige wilde Pieces in Schwarz & Weiß Mustern verlinkt. Schaut vorbei!
Eure PALINA KOZYRAVA
ENG
Today's post is all about the mix of patterns. Black and white are principally colors that are easy to combine. It becomes more bold however, if two different patterns are being combined, because a turbulent but unequally more exciting overall picture emerges.
My cool blouse by Eterna is the centerpiece of the look and looks noble and high-quality. The pattern is non-uniform. Instead of using for example simple black for the rest of the outfit, I combined the beautiful blouse with black and white striped trousers from H&M.
At first glance, the look may appear like a pajama. At second sight however, it is a very fashionable, modern style which surely requires a certain courage but also creates a strong effect.
We shot the look during Fashion Week in the streets of my favorite Paris with the Sony Alpha 7RM2.
Below I have compiled some cray black and white pattern pieces, check them out!
Your PALINA KOZYRAVA
SHOP MY LOOK