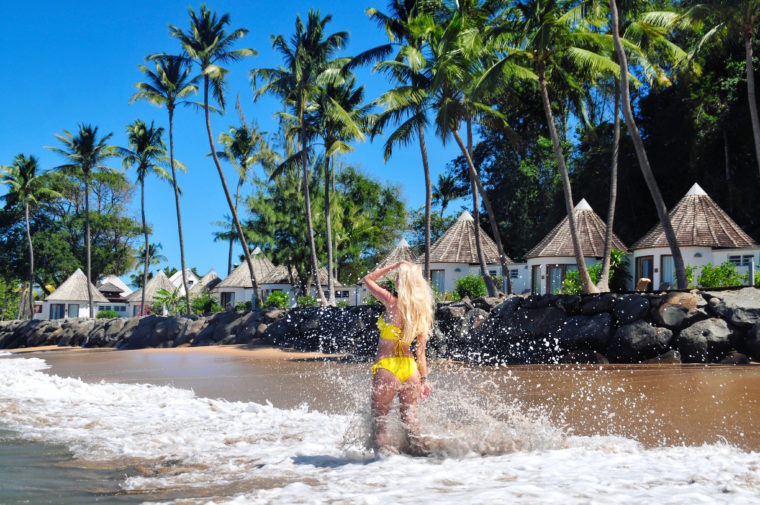 DE
Teil 2 meiner Karibikreise! Ich möchte euch heute von der wunderschönen karibischen Insel Guadeloupe berichten. Nachdem wir 1 Woche auf Martinique verbracht hatten (Lest HIER meinen Reisebericht mit allen Tipps), war es Zeit für einen kleinen Tapetenwechsel. Gesagt getan, und schon saßen wir im Flieger nach Guadeloupe.
Die Nachbarinsel von Martinique ist sehr grün und etwas größer und trubeliger im direkten Vergleich. Das hat natürlich Vor- und Nachteile:
Auf der Pro-Seite sind sicherlich die Hotels. Wir hatten uns bewusst ein Hotel direkt am Strand gebucht – Das Langley Resort Fort Royal. Ein Paradies im Paradies! In unserem Beach Bungalow in der ersten Reihe direkt am Strand ließen wir es uns eine Woche lang gut gehen und bestaunten von unserer Terrasse aus die schönsten Sonnenuntergänge ever.
Auch gute Restaurants zu finden ist insgesamt etwas leichter als auf Martinique, da die Insel mehr auf Touristen ausgerichtet ist und es hier deutlich mehr Angebot gibt.
Diese Ausrichtung auf Touristen merkt man auch am tollen Angebot an Freizeit Aktivitäten: Ob Jet Ski, Paddling oder Kajak fahren, alles wird oft und zu fairen Preisen angeboten.
Etwas negativ haben wir das wirklich enorme Verkehrschaos auf der Insel empfunden. Egal wohin ihr wollt, man steht erst mal im Stau :D.
Ansonsten hatte wir eine wirklich tolle Zeit auf Guadeloupe und sind super happy diese traumhafte Insel in der Karibik entdeckt zu haben!
Eure PALINA KOZYRAVA
[follow]
ENG
Part 2 of my Caribbean trip! I would like to tell you today about the beautiful Caribbean island of Guadeloupe. After we had spent 1 week on Martinique (Read HERE my travel report with all tips), it was time for a small change of scenery. That being said, we were already on the plane to Guadeloupe.
The neighboring island of Martinique is very green and slightly larger and much more turbulent when it comes to tourism in direct comparison. Of course this has advantages and disadvantages:
On the pro-side are certainly the hotels. We had deliberately booked a hotel right on the beach – The Langley Resort Fort Royal. A paradise inside a paradise! In our beach bungalow located in the first row directly on the beach we relaxed for more than a week and saw the most beautiful sunsets ever from the comofrt of our terrace.
It is also a bit easier to find decent restaurants than on Martinique, as the island is more oriented towards tourists and there is clearly more offer.
This orientation towards tourists is affecting the great offer of leisure activities: Whether jet skiing, paddling or kayaking, everything is offered everywhere and at fair prices.
Nevertheless we felt a bit negatively about the really enormous traffic on the island. No matter where you want to go, you are stuck in the traffic jam :D.
Besides that, we had a really great time on Guadeloupe and are super happy to have discovered this fantastic island in the Caribbean!
Your PALINA KOZYRAVA