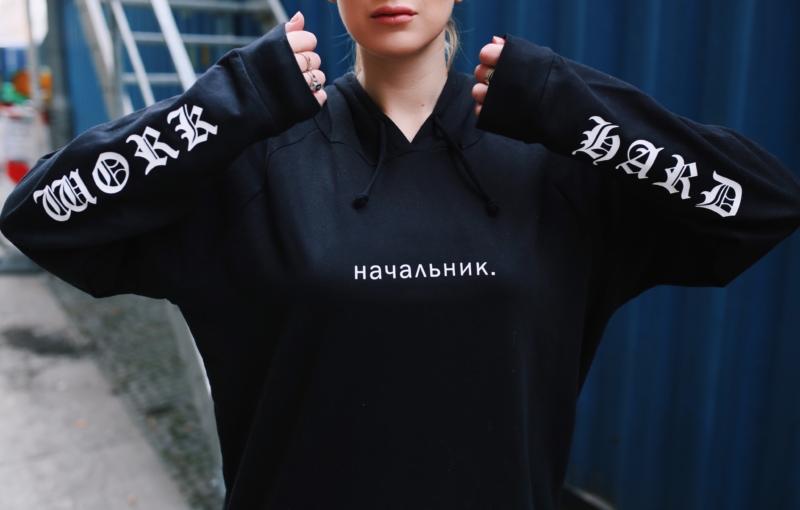 DE
Ich liebe an der Berliner Fashion Week, dass ich dort immer viele coole und stylische Leute aus meiner Branche treffe. Wir können uns austauschen und gemeinsam Ideen für neue Projekte entwickeln. Nicht zuletzt, weil ich als Blogger so viele starke und einzigartige Persönlichkeiten kennenlernen durfte, ist meine eigene Kollektion sehr "motivational". Mein GIRLBOSS. Shirt war der Anfang und es hat mir unglaublich viel Freude gemacht, so viele tolle Frauen mit meinem Shirt zu sehen.
Im zweiten Teil meiner selbst designten Kollektion greife ich das Motivations-Motto auf und verbinde es mit dem angesagten Streetstyle, welchen ich durch die vielen Besucher der verschiedenen Fashionweeks in Europa kennengelernt habe. Auf den Ärmeln steht Work & Hard in verschnörkelter Schrift und auf der Brust sieht man den Schriftzug начальник was Boss auf russisch bedeutet!
Der Schriftzug steht für meinen harten und weiten Weg vom Russischen Plattenbau bis zur Pariser Front Row, für alle starken und tollen Frauen & Männer da draußen, die es schon geschafft haben, und all jene, die sich noch auf ihrem Weg nach oben befinden.
Das Produkt richtet sich dabei nicht nur an Girls, sondern ist ein Unisex Hoodie.
Mein Freund & Kollege Georg Mallner, dessen Style ich wirklich liebe, hat mit mir gemeinsam in Berlin ein Fotoshooting mit meinem neuen Hoodie gemacht. Die Bilder zeigen dass er sowohl Frauen als auch Männern super steht, und durch seinen oversized Schnitt für jeden Körper geeignet ist.
Meine Mode soll für echte Menschen sein, jedem stehen und passen und den edgy Streetstyle der Modewelt transportieren.
Ob am Flughafen, auf der Fashionshow oder Zuhause, bei Design und der Materialwahl war mir sehr wichtig, dass ihr euch überall damit wohlfühlt.
Georg & ich tragen den Hoodie übrigens beide in M-L auf den Fotos.
Gefällt euch der Style? Dann schaut gern auf HIER auf meinem Shop vorbei!
Fotos: Jeremy Möller von jmstreetstyles
Eure PALINA KOZYRAVA
[follow]
ENG
What I love about the Berlin Fashion Week? I always get to meet many cool and stylish people from my industry. We can exchange ideas and develop new projects. Because I was able to get to know so many strong and unique personalities during my time as professional blogger, I decided to make my own collection very motivational. My GIRLBOSS shirt was the beginning and I was incredibly happy to see so many great women wearing my shirt.
In the second part of my self-designed collection, I am picking up the motivation motto and connecting it with the trendy street style, which I have during the various Fashionweeks in Europe lately. On the sleeves, you can read Work & Hard in sculpted letters and on there is a lettering saying начальник which means Boss in Russian!
The lettering represents my hard and long way from the Russian concrete jungle to the Paris Front Row. It stands for all the strong and great women & men out there that have already made it, and for all of you who are still on their way up to the top .
The product is not just for girls, it is a unisex hoodie.
Together with my friend & colleague Georg Mallner, whose style I really appreciate, we have made some great photos of my new hoodie. The pictures show that it looks as great on men as on women and due to its oversized cut is suitable for everybody.
My fashion is meant to be for real people, should compliment & fit everyone and transport the edgy street style of the fashion world.
Whether at the airport, at the Fashionshow or at home, for me it was important that you feel comfortable everywhere in this Hooded Shirt.
Georg & I are wearing the hoodie both in M-L on the photos by the way.
Do you like the style? Then take a look at my shop HERE!
Photos: Jeremy Möller from jmstreetstyles
Your PALINA KOZYRAVA