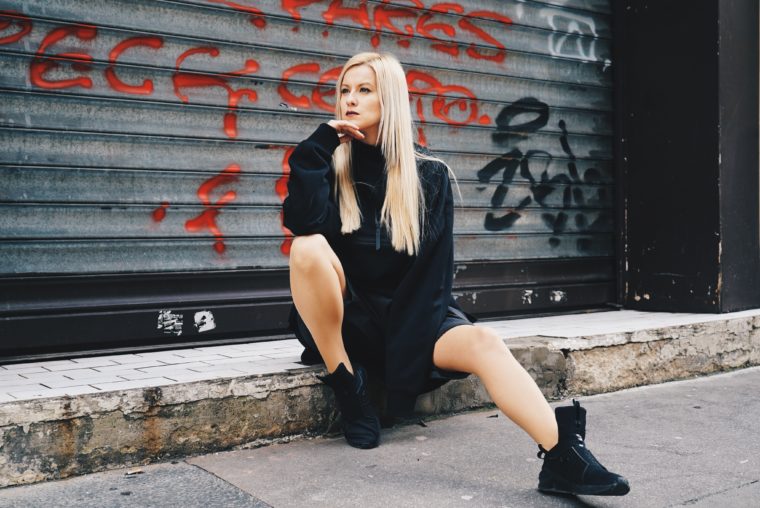 *Sponsored by Puma
DE
Der Streetstyle in den Metropolen der Welt wird immer sportlicher und zugleich sehr edgy.
Rihannas neue Fenty Kollektion in Kooperation mit Puma, die sie auf der NY Fashion Week präsentiert hat, spricht genau diese edgy und streetige Sprache. Schwarz und weiß dominieren die Kollektion und jedes Piece strotz nur so vor Kraft. Außerdem läutet die Kollektion endgültig die "Past Gender" Zeit in der Mode ein. Frauen und Männer tragen die gleiche Kleidung und auch ich liebe diese neue Bewegung in der Fashion Welt!
Im Zentrum meines Looks von der Pariser Fashion Week steht der "The Trainer" Sneaker aus der neuen Puma X Rihanna Fenty Kollektion. Sein Schnitt erinnert an einen Schuh für Boxer, doch seine Struktur ist super modern und ist unserer zeit voraus. Dazu trage ich einen XXL Hoodie und eine lange Shorts von Puma. Der Look kam sehr gut an auf der fashion Week und ich werde mir zukünftig sicher noch mehr Männerklamotten kaufen oder einfach vom Max klauen ;).
Wie gefällt euch der Style? Schreibt mir gern hier in der Kommentarspalte oder auf Snapchat (palinapralina).
Die Fotos wurden mit der Alpha 7s gemacht.
Eure PALINA KOZYRAVA
ENG
The streetstyle in the capitals of the world is very sporty yet edgy lately.
Rihanna's new Fenty collection in collaboration with Puma, which was presented during the NY Fashion Week, speaks exactly this edgy and streety language. Black and white dominate the collection and each piece exuberates is a real power. The collection also heralds the "Past gender" time in fashion. Men and women wear the same clothes and I love this new movement in the fashion world!
The focus of my outfit straight from Paris Fashion Week is the "The Trainer" sneaker from the new Puma X Rihanna Fenty collection. Its style is reminiscent of a shoe for boxers, but its structure is ultra modern and ahead of time. I am also wearing a XXL hoodie and long shorts by Puma. The look was very well received during fashion Week and I will in the future surely buy more men's clothing or simply steal some from Max.
How do you like the style? Write me here in the comments section or on Snapchat (palinapralina).
The photos were shot with the Sony Alpha 7s.
Your PALINA KOZYRAVA
SHOP MY LOOK: