Balenciaga Resort 2023
A couple of days ago the new Balenciaga Collection from Demna was shown in the New York City Stock Exchange and created the usual social media buzz. However, this circus made me overthink once and for all fashion in general and why I feel so lost within it.
To be honest I think nobody was expecting much from the latest collections anymore. The fire of the fashion revolution is out for quite some time and the big brands keep repeating the same stuff over and over again. For Balenciaga this hurts me in particular because I used to be a big fan. But if I am honest I don't see myself belonging to that kind of fashion anymore. I am unsatisfied by the collections & repeated aesthetics on the runway. Same same but different…effortless oversized sporty looks that remind us of homeless people over & over again. Those huge logos everywhere so even an analpahbet could tell I spent 600 on a T-Shirt or an all black look…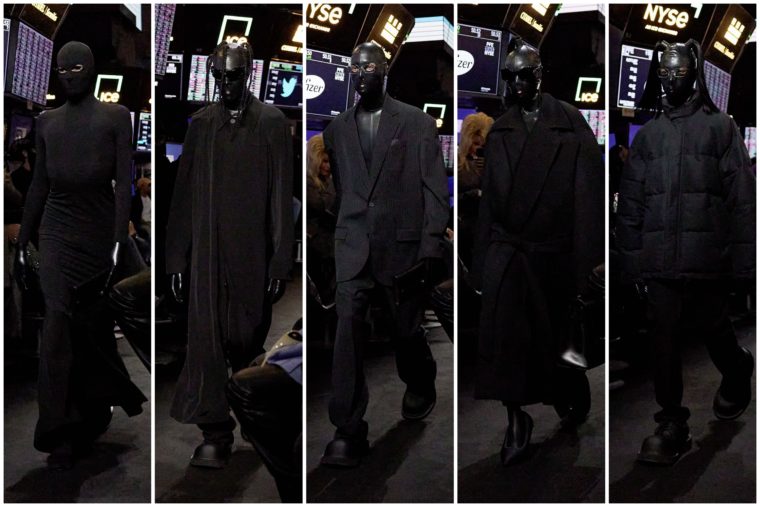 Balenciaga Resort 2023
I paid evth. myself, never worked with those labels, never received gifting etc. At this point in time 90% of my wardrobe consists of that oversized/ ugly chic aesthetic. Maybe because I was a fan, I closed my eyes for too long. Well it's not a maybe…it's a fact.
No innovation, no creativity for more than 6 years is a felt eternity in fashion. I mean we are talking about around 36 Balenciaga collections of same same but different since Demna took over and revolutionized the industry back in 2015…
Yet nobody really seems to pick up that topic. Where are critical reflections of the current situation in fashion? Where are all those intellectual studied Vogue journalists talking about such issues? Isn't that what should set you guys apart from people with no journalistic background like me?
Have you ever asked yourself: Who is buying this fashion now? Russia gone, China locked up…these were the main markets for those brands. I hardly believe that people in Europe and the US will continue to fall into that trap anymore. A trap I have been into of course for a really long time. I mean why did I buy all this logomania pieces? If I am honest, to take the shortcut of representing a Luxury Image and a sense of belonging.
If the only creativity left is creating all black looks with full face masks on in order to create some buzz at the MET Gala – I am out. Why was everybody talking about Kims all black outfit? The dress was doing nothing for her…After all, I think it is still the person making the look and putting a bdsm mask on, robs the identity and power of the style. But maybe that mask thing made me finally realize that a Sweater with a print is just a sweater with a print after all…
MET Gala 2021: Kim Kardashian & Kanye West
Oh and that does not change when you start to put two brands on the Sweater. The collaboration madness seems to be the new way to catch attention as every major fashion label is now teaming up with each other or sports brands etc. Those marketing stunts however only end up being the target of resellers and you rarely ever see somebody actually wearing it. If the intention of Yeezy GAP X Balenciaga for example really was to make luxury more accessible, why is it impossible to get a piece of that and why are the prices on the secondary market higher than those of normal Balenciaga jackets?

Balenciaga x Adidas
Gucci x Adidas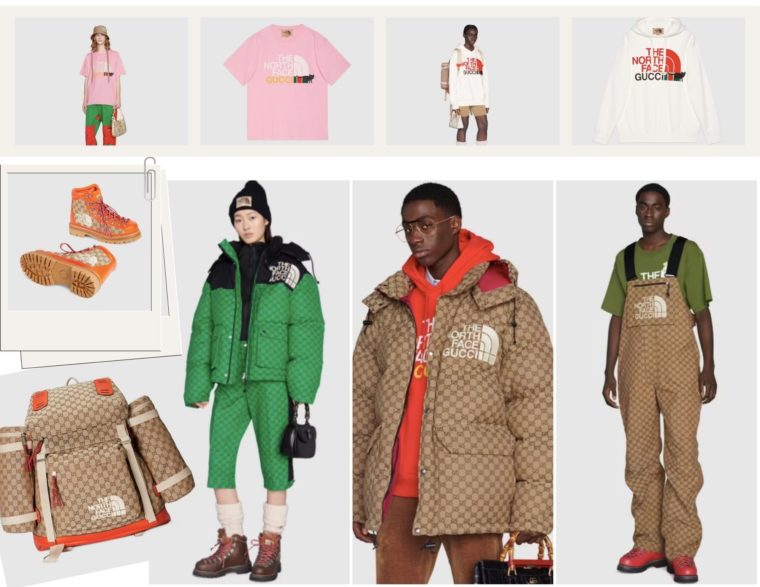 Gucci x North Face
Besides, the profit margin is ridiculous. I assume the production of a Shirt made in the EU will be nowhere close to 600€ but pretty close to 20€ ?…When you take off the marketing glasses it feels so unreasonable to me.
The peak of all this however were the completely destroyed so called Paris Sneakers for 1,5k from Balenciaga. It feels like a slap in the face for everybody who has to wear shoes like that because he or she cannot afford proper shoes…Sometimes I think the Designers must think: "Ok, If they buy this we can literally sell trash and they would still love it." And they are right! If anybody buys this, I truly believe this person has completely lost touch to reality. If you thought about getting one of those, which i hope you did not, please rather donate 1,5k to homeless charity so around 50 can buy themselves proper shoes.
Balenciaga Paris Sneaker
Naturally Balenciaga has experienced what I call the EdHardy effect within the last years.
First there were the stars, then the cool people, then everybody and then the not so cool people. When this trend started it created such a sense of belonging for me. Now when I see somebody wearing Triple S somewhere it makes mw smile but not in the nice way.
Oh and I havent even started about sustainability. I mean I am not talking about greenwashing, a bit of recycled materials here and there. I am talking about a massive amount of clothes that are brutally pushed into the retail market, outlets etc. just to be discounted with 50% and more at the end of each season because the market simply cannot absorb that. Please just checkout the sales section of the Matches Fashion or MyTheresa. Everything you see there nobody wants and it can only be sold by massive discounts e.g. it was overproduction. That's the opposite of sustainability.
Fashion is supposed to be fun for me but somewhere in all that it got lost! I love to slip into different roles by wearing different styles: You can be sporty in the morning & diva in the evening. I feel more secure in my body than ever before and do not want to hide it in oversized shirts anymore…time to change things drastically.
My consequences:
I am selling 90% of this aesthetic – which also equals around 90% of my "luxury" wardrobe.
I will keep my eyes open for new things: Maybe there are brands out there giving me and us fashion crazy people what we are looking for? If you have some suggestions please let me know in the comments.
I will try to no longer follow extreme contemporary trends and buy sustainably. Meaning I buy things for a long time to wear them regularly.
Of course I will keep some of the pieces because I have a personal relationship & they have a special meaning to me. You will find some pieces still in my Posts but my Style will change a lot!
I hope you are still with me and did not lose track within the thoughts of a disappointed fan trying to find a direction. Some words may seem harsh, but I have closed my eyes for too long and finally woke up. It feels like I have been under water too long and this text is the taste of fresh air in my lungs after finally breaking through the surface.