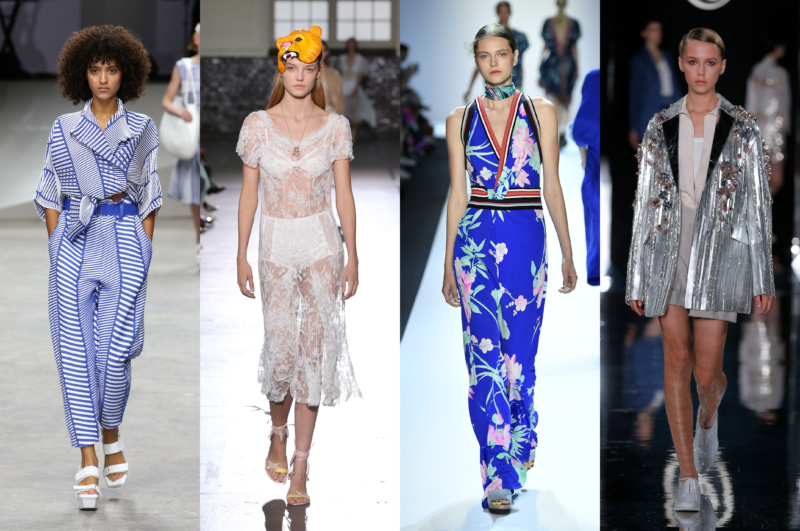 DE
Zeit für eine kleine Fashion Week Review der Ready to Wear Paris Fashion Week SS17!
Gezeigt wurde die Mode, die wir kommenden Sommer auf der Straße sehen werden und ich habe für euch die Highlights zusammengefasst und zeige euch außerdem ein bisschen wie mein Alltag in Paris so aussah und was ihr bei einem Besuch dort nicht verpassen solltet.
ENG
Time for a little Fashion Week Review of the Ready to Wear Paris Fashion Week SS17!
I have summarized the highlights for you and I also showing you a bit of my everyday life in Paris as well as the must sees and hotspots for your next travel.
---
SHOWS:
DE
Bei all den Partys und Nebenevents geht es in Paris natürlich während der Fashion Week natürlich primär um die Mode, die auf den Laufstegen vorgeführt wird. Manche Shows sind wegweisend über Jahre hinweg, andere einfach belanglos oder sogar langweilig. Meine Highlights dieses Jahr waren John Galliano, Issey Miyake, Leonard und Valentin Yudashkin.
ENG
Besides all the parties and side events in Paris, of course, during Fashion Week, the main focus is on fashion, which is presented on the catwalks. Some shows are groundbreaking for years, others simply impassive or even boring. My highlights this year were John Galliano, Issey Miyake, Leonard and Valentin Yudashkin.
---
JOHN GALLIANO: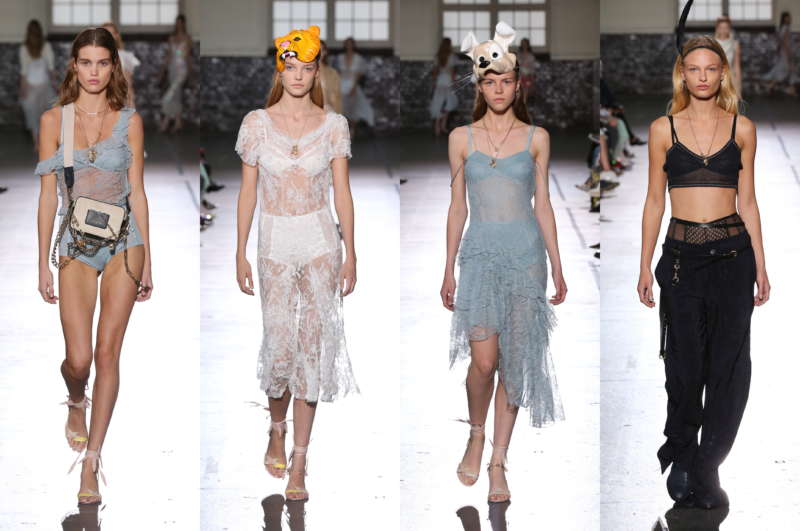 DE
Die Shows von John Galliano waren früher, als der umstrittene Stardesigner Galliano noch selbst bei seinem Label designte, immer sehr extrovertiert und ausgefallen. Die diesjährige SS17 Show war eher zurückhaltend, dafür aber geprägt durch schöne Schnitte und feinste Materialien. Besonderes Show-Highlight waren die Masken, welche die Models auf ihren Hinterköpfen trugen.
ENG
The shows of John Galliano used to be very extroverted and unusual, when the controversial star designer Galliano himself designed his own label. This year's SS17 show was rather inconspicuous, but it was characterized by beautiful cuts and finest materials. Special show highlight were the masks, which the models carried on the back of their heads.
---
ISSEY MIYAKE: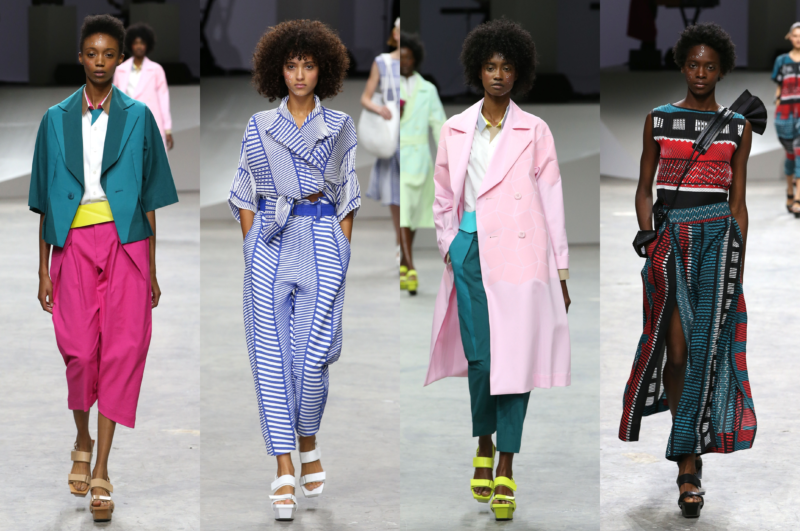 DE
Bei Issey Miyake ging es gewohnt traditionell zu. Der starke asiatische Einfluss in den Miyake Pieces ist unverkennbar. Besonderer "HABEN WOLLEN" Moment waren die Schuhe und Taschen der gezeigten Kollektion.
ENG
At Issey Miyake we saw a rather usual but fine collection. The strong Asian influence in the Miyake Pieces is unmistakable. Special "WANT TO HAVE" moment were the shoes and bags of the collection.
---
LEONARD PARIS:

DE
Mit Leonard Paris verbindet mich aus vielerlei Gründen eine etwas tiefere Beziehung. Umso gespannter bin ich jede Saison auf den Spagat zwischen Tradition und Moderne. Dieses Mal waren die bekannten Leonard Muster auf wunderschönen, seidenen Sommerkleidern und Strand-Ensembles zu sehen.
ENG
With Leonard Paris, I have a somewhat deeper relationship for many reasons. The more exciting I am every season to see the balancing between tradition and modernity. This time, the famous Leonard patterns were on beautiful, silk summer dresses and beach ensembles and I loved it!
---
VALENTIN YUDASHKIN
DE
Valentin Yudashkin ist in Russland so etwas wie Karl Lagerfeld in Europa: Ein Mode-Zar.
Ich freue mich bei Yudashkin immer auf besonders feminine Schnitte. Die SS17 Kollektion ist eher schlicht gehalten trotzdem aber sehr weiblich. Mich spricht die neue Designsprache von Yudashkin sehr an und ich freue ich die Pieces in der Stores zu sehen und anprobieren zu können.
ENG
Valentin Yudashkin is in former soviet countries something like Karl Lagerfeld in Europe: a fashion tsar.
I always look forward to his particularly feminine cuts. The SS17 collection is rather simple but still very feminine. The new design language of Yudashkin appeals to me very much and I am happy to see the Label develop.
---
PALINA PRALINA'S PARIS TIPPS
DE
Where to eat:
Paris hat kulinarisch richtig viel zu bieten. Preislich ist nach oben keine Grenze gesetzt aber wer das richtige Pariser Feeling erleben möchte, dem kann ich meine alte Heimatstraße, die Rue Monotgueil wärmstens empfehlen. Hier findet ihr unzählige kleine Restaurants und während ihr draußen sitzt könnt ihr die trubelige Treiben auf der Straße beobachten und das Pariser Flair genießen.
Where to Drink & Party:
Während der Fashion Week sind das L'ARC und das Silencio die absoluten Hotspots zum feiern gehen. Das L'ARC ist dabei eher ein typischer Laden für Rich Kids, die mal die Korken knallen lassen möchten. Die Musik ist manchmal wirklich grandios und man trifft sogar ab und an Stars wie Kanye West oder Rihanna dort an.
Das Silencio ist szeniger und eher ein Anlaufpunkt für Künstler und Fashionpeople, die unter sich bleiben wollen. Der Laden kommt ohne die Große Show aus und ist perfekt, um eine tolle Nacht mit guten Drinks und Gesprächen zu verbringen. Dort trifft man von Marc Jacobs bis zur Starbloggerin Kristina Bazan alle möglichen Leute aus der Modeszene. Die Tür kann schon mal sehr hart und willkürlich sein, daher sollte man immer einen Plan B in der Tasche haben wenn man zum Silencio geht :D.
Für gute Drinks habe ich einen echten Geheimtipp für euch. Während sich die Crowd im L'avenue oder Costes quetscht, um einen Drink zu bekommen, gehen echte Pariser in den Ballroom du Beef Club. Wundert euch nicht wenn ihr keine Aufschrift findet. Die Tür ist einfach schwarz und ihr erkennt sie nur daran, dass dort ein Türsteher in Lederjacke und Hut den Einlass regelt. Der Einlass ist nicht so streng und so ist es auch kein Problem mit einer größeren Gruppe dort hinzukommen.
Where to live:
Paris bietet natürlich unheimlich viele Hotels. Trotzdem würde ich euch raten eine Ferienwohnung in Paris zu buchen, um sich wirklich Zuhause und somit auch wie ein echter Pariser zu fühlen. In schönen Ferienwohnungen verschwindet das Gefühl "Gast" zu sein sehr schnell und man fängt an eine Stadt so zu erleben wie man es eigentlich sollte. Ich buche meine Ferienwohnung immer bei Fewo-Direkt und habe dort schon unfassbar tolle Wohnungen gefunden, die ich immer und immer wieder buchen würde. Schaut gern auf Fewo-Direkt vorbei, um euch jetzt schon die passende Wohnung für euren nächsten Trip zu reservieren! Mein Tipp: Nehmt ein Apartment im 2ten oder 3ten Arrondissement. Dort lebt ihr zentral und seid immer im Mittelpunkt der Aktion.
Wir haben diesmal ganz nah an der Rue Montorgueil im 2ten gewohnt und haben uns in unserem alten Viertel richtig wohl gefühlt.
Ich hoffe euch hat die kleine Review gefallen und ihr habt ein Paar Tipps für euren nächsten Trip nach Paris mitgenommen.
Eure PALINA KOZYRAVA
[follow]
ENG
Where to eat:
Paris has a lot to offer. There is no limit to the price and luxury of food, but if you want to experience the real Parisian feel, I can recommend my old home street, Rue Monotgueil. Here you can find countless small restaurants and while you sit outside you can watch the hustle and bustle of the streets and enjoy the flair of Paris.
Where to Drink & Party:
During Fashion Week, the L'ARC and the Silencio are the absolute hotspots to party. The L'ARC is more like a typical place for rich kids who want to pop bottles. The music is sometimes really great and you even meet now and then stars like Kanye West or Rihanna there.
The Silencio is more a place for the szene of artists and fashionpeople. The place comes without the big show and is perfect to spend a great night with good drinks and talks. From Marc Jacobs to starbloggers like Kristina Bazan you can meet all sorts of people from the fashion scene there. The door can be very hard and arbitrary, so you should always have a plan B in your pocket when you go to Silencio :D.
For good drinks I have a real insider tip for you. While the crowds squeeze themselves in L'avenue or Hotel Costes to get a drink, real Parisians go to the Ballroom du Beef Club. Do not be surprised if you do not find a real entrance. The door is simply black and you only recognize it by the fact that there is a bouncer in a leather jacket and hat regulating the intake. The entrance is not so strict and so there will be no problem even with a larger group of people.
Where to live:
Paris offers a lot of hotels. Nevertheless, I would advise you to book a holiday apartment in Paris to really feel at home & Parisian. In beautiful apartments the feeling of being a "guest" disappears very quickly and you begin to experience a city as you should. I book my apartment always at Fewo-Direkt and have already found incredibly great apartments, which I would book again and again. Check out the Fewo-Direkt page to book a suitable apartment for your next trip! My tip: Take an apartment in the 2nd or 3rd Arrondissement. There you live in the center and you are always the middle of the action.
This time we lived very close to the rue Montorgueil in the second Arrondissement and we we just loved to back in our old hood.
I hope you liked the little review and you were able to get a couple of tips for your next trip to Paris.
Your PALINA KOZYRAVA