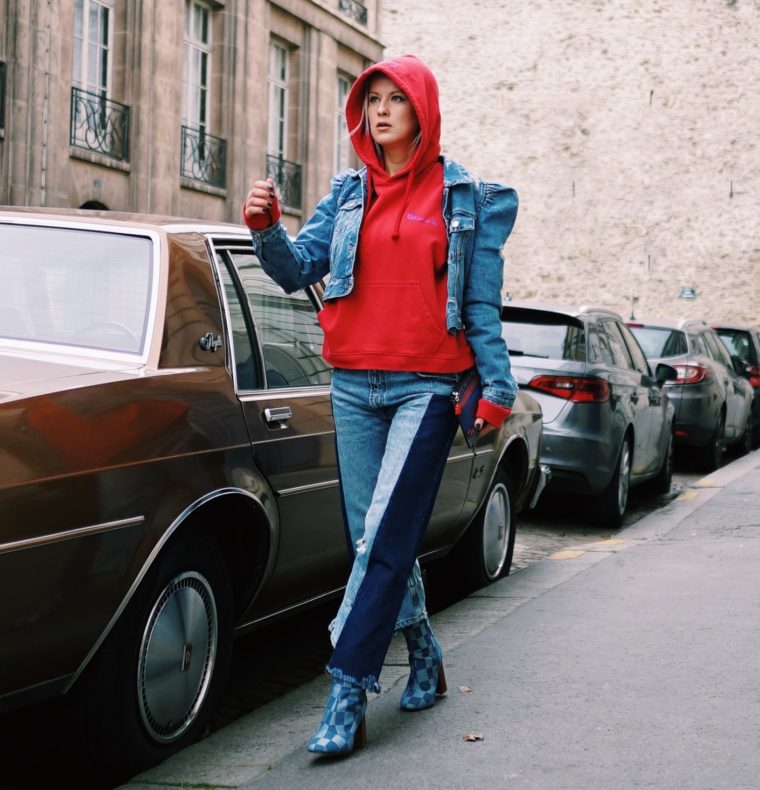 DE
Denim ist seit Jahren aus der Modewelt nicht wegzudenken doch der aktuelle Hype übertrifft wirklich alles! Nie wurden Jeanshosen und Jacken so wild vernäht und zu so außergewöhnlichen Pieces verarbeitet. Jeans auf Jeans? Heute kein No-Go mehr sondern voll im Trend!
Ich trage auf den Fotos eine Kombination aus Jeansjacke & Hose von Zara, Hoodie von Vetements und Schuhe (ebenfalls im Denim-Look) von Buffalo. Die Bilder zeigen einen regelrechten Denim Overload! Ich liebe diesen Style und bin jedes Jahr aufs neue verwundert, wie vielfältig der Denim Trend ist und welche verschiedenen Formen er immer wieder annimmt.
Seid ihr bei dem Trend dabei oder ist das etwas zu viel Jeans für euch? Schreibt mir und wir diskutieren ;)
Unten findet ihr Jeans Pieces in jeglicher nur denkbaren Form zum shoppen! Von der ausgefallenen Denimtasche bis hin zur coolen Jeanshose ist alles dabei!
Viel Spaß beim shopping!
Photos: Sony Alpha 7s
Eure PALINA KOZYRAVA
ENG
Denim has been a big deal in the fashion world for years now. The current hype however really surpasses everything! Jeans pants and jackets have never been so severely stitched and processed into such extraordinary pieces. Jeans on jeans? No more a no-go, but actually a big trend!
I am wearing a combination of jeans jacket and pants from Zara, a hoodie from Vetements and shoes (also in denim look) from Buffalo. The pictures are showing a real denim overload! I love this style and every year I am amazed again, how the denim trend changes and which different pathways it takes over time.
Are you part of the trend or is it too much jeans for you? Write me and we can discuss this issue of the season ;)
Below you can find Jeans Pieces in any imaginable form! From the fancy denim bag to the cool jeans pants that we all love, everything is there!
Have fun shopping!
Your PALINA KOZYRAVA
SHOP MY LOOK