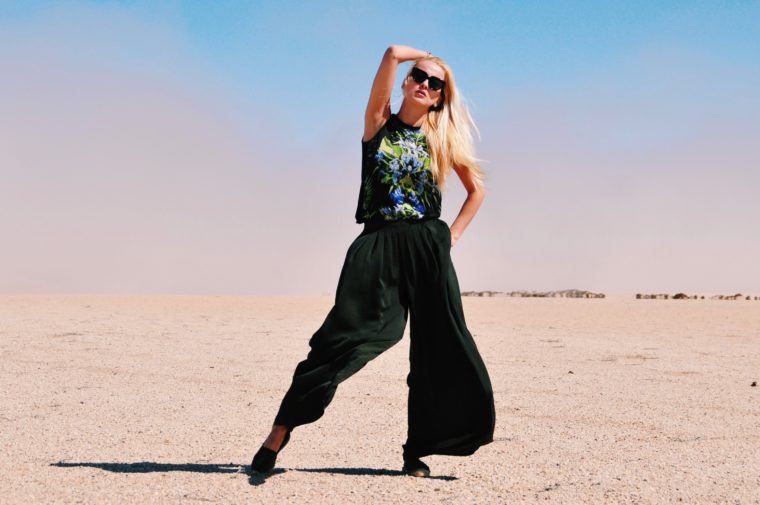 *Sponsored by Buffalo
DE
Ein Sturm zieht heran! Diesmal im wahrsten Sinne des Wortes.
Als wir das Outfit in der Wüste von Namibia geshootet haben, zog ein Wüstensturm auf und bewegte sich bedrohlich auf uns zu. Aber, whatever – the show must go on und was kann uns ein bisschen Sand schon anhaben ;)?
Mit meinen neuen Buffalo Espadrilles, meinem Oberteil von Givenchy und der weiten Hose von Zara ist ein toller, unkomplizierter Look entstanden, der in der Wüste genauso gut aussieht, wie im Großstadt-Dschungel.
Noch viel mehr Fotos aus Namibia findet ihr übrigens sehr bald hier auf meinem Blog.
Wenn Euch die Camouflage Espadrilles genauso gut gefallen wie mir, dann schaut doch bei Buffalo vorbei!
Eure PALINA KOZYRAVA
FOLLOW ME ON INSTAGRAM & SNAPCHAT: palinapralina
ENG
A Storm is arising! This time, literally.
When we shot the pictures for this outfit in the desert of Namibia, a desert storm moved menacingly towards us. But, whatever – the show must go on and a little sand cant do us much harm right ;)?
With my new Buffalo Espadrilles, my top by Givenchy and wide pants by Zara a great, uncomplicated look got created that looks just as good in the desert, as in the concrete jungle.
By the way: Many more photos from Namibia you will find very soon here on my blog.
If you love my Camo Espadrilles as much as I do, check out the Buffalo page!
Your PALINA KOZYRAVA
SHOP MY LOOK