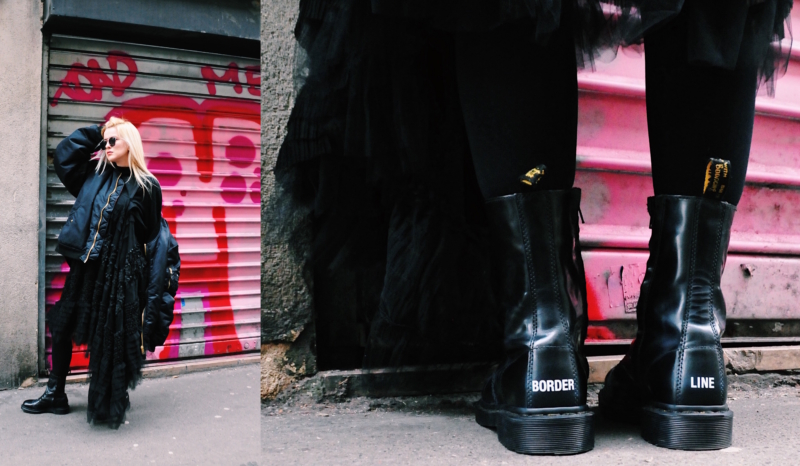 DE
"Borderline" beschreibt eine Persönlichkeitsstörung und wurde vom Begriff "Borderland" abgeleitet, welcher den Grenzbereich zu psychischen Krankheiten bezeichnet. Schaut man sich den Hype um Vetements und die Mode an, so erkennt man sofort, dass der ganze Style eine Gradwanderung ist und ständig Grenzen überschreitet. Die DR.MARTENS X VETEMENTS Stiefel stehen mit ihrer auffälligen Aufschrift wie kein anderer Schuh für diese Grenzüberschreitung.
In meinem heutigen Style verbinde ich Looks und Stilrichtungen die unterschiedlicher nicht sein könnten: Haute Couture mit Streetstyle. Das untragbare wird somit tragbar und ein einzigartiger und sehr individueller Look entsteht.
Das Kleid ist vom australischen Haute Couture Designer Bowie Wong. Dazu trage ich eine schwarze Vintage Bomberjacke und meine DR.MARTENS X VETEMENTS Stiefel. Die Sonnenbrille ist von GEILGEILGEIL.
Gefällt euch der düstere Mix aus Haute Couture und Streetstyle? Schreibt mir hier oder aus Snapchat!
Eure PALINA KOZYRAVA
[follow]
ENG
"Borderline" describes a personality disorder and was derived from the term "Borderland", which describes the border area to mental illness. If you look at the hype around the label Vetements and the fashion in general, you can see immediately that the whole style constantly crosses borders. The DR.MARTENS X VETEMENTS boots stand with their striking inscription like no other shoe for this border crossing.
In my style today, I am combining looks and styles that are very different: haute couture with street style. The intolerable becomes thus wearable and a unique and very individual look emerges.
The dress is from the Australian haute couture designer Bowie Wong. In addition I am wearing a black vintage bomber jacket and my DR.MARTENS X VETEMENTS boots. The sunglasses are from GEILGEILGEIL.
Do you like the dark mix of haute couture and street style? Write me here or on Snapchat!
Your PALINA KOZYRAVA
SHOP MY LOOK