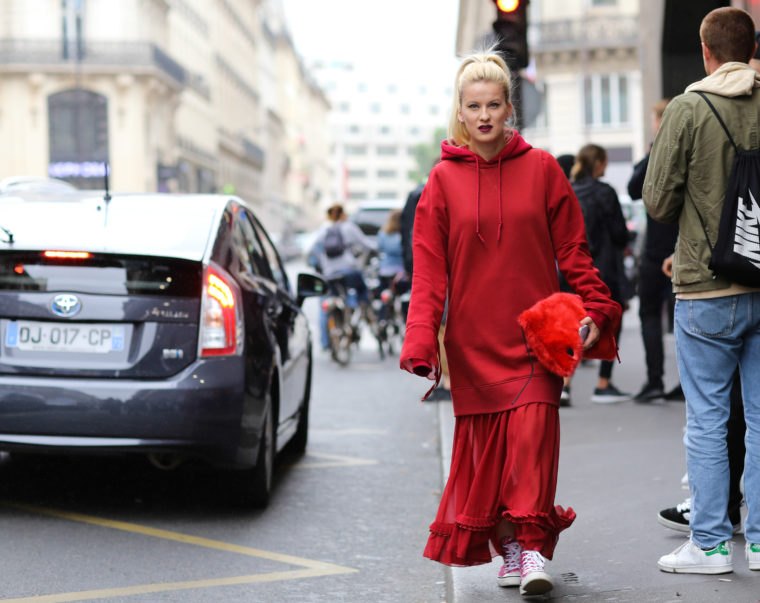 DE
Das Highlight der Pariser Modewoche: Die Vetements Fashion Show! Ein riesiger Haufen Streetsytle Fotografen tummelt sich vor dem Eingang zur Galerie Lafayette. Wer hier eingeladen ist, kann sich mit einigem Recht zur Modewelt dazu zählen. Der Hype der Marke ist auf seinem Höhepunkt, die Outfits der geladenen Gäste auch.
Hier den richtigen Look zu wählen ist nicht einfach. Es muss streetig sein, aber aus der Masse herausstechen ohne dabei peinlich nach Aufmerksamkeit zu schreien. Da der heutige Chefdesigner von Vetements, Demna Gvasalia, vorher bei Margiela gearbeitet hat, empfand ich ein Kleid von MM6 als die natürliche und beste Wahl. MM6 ist die Tochterfirma von Margiela bietet hauptsächlich die klassischen Margiela Schnitte an – meist aus den vergangenen Kollektionen und ist dabei nicht so teuer.
Das MM6 Piece ist etwas ganz besonderes, da Sweater und Chiffon Kleid zusammengenäht wurden. Zusätzlich trage ich einen roten Hoodie darunter um den Look noch etwas stylischer zu machen. Außergewöhnlich ist das Kleid allerdings ohnehin und liegt mit dem modernen Schnitt, den überlangen Ärmeln und dem Materialmix voll im Trend. Gemeinsam mit meinem stylischen Begleiter, der unseren Vetements Regenmantel mit POLIZEI-Aufdruck trug haben wir ganz gut in das coole Publikum gepasst hoffe ich :-P.
Unten habe ich für euch ein paar meiner MM6 & Vetements Favoriten zusammengestellt.
Ich hoffe euch gefällt der Style und ihr habt Spaß beim shoppen.
Fotos: Jeremy Möller von jmstreetstyles
Eure PALINA KOZYRAVA
[follow]
ENG
The highlight of the Paris Fashion Week is defineately the Vetements Fashion Show! A huge pile of Streetsytle photographer gathered before the entrance of the Galeries Lafayette. Those who are invited, can count themselves with some justification to the fashion world. The hype is at its peak, the outfits of the invited guests as well.
Not easy to choose the right look, as it has to be streety, but outstanding without screaming for attention. As the current head designer of Vetements, Demna Gvasalia has previously worked at Margiela, I thought a dress from MM6 was the natural and best choice. MM6 is a sub brand of Margiela and offers maily the classic Margiela cuts for a much cheaper price.
In addition to the MM6 piece I am wearing a red Hoodie underneath. The combination of sweater and dress in red is quite exceptional and with its modern cut, the long sleeves and the material mix really trendy. Together with my stylish companion, who was wearing our Vetements rain jacket with a POLICE imprint we have fitted in in quite well I would say.
Below I have compiled a few of my MM6 & Vetements favorites. 
I hope you like the style and you have fun shopping the pieces you find below.
Photos: Jeremy Möller from jmstreetstyles
Your PALINA KOZYRAVA
SHOP MY LOOK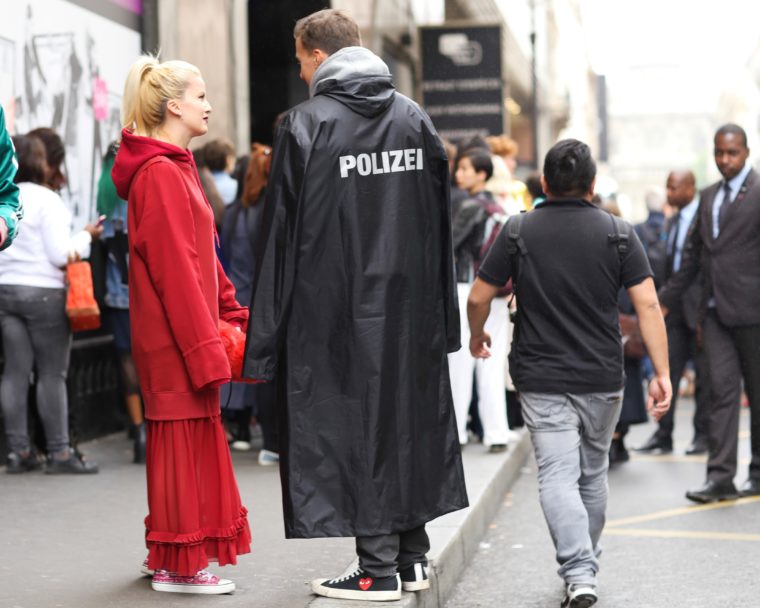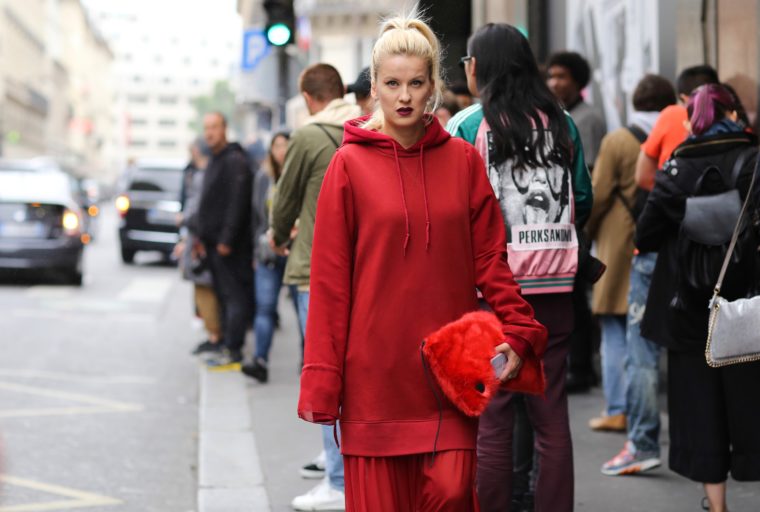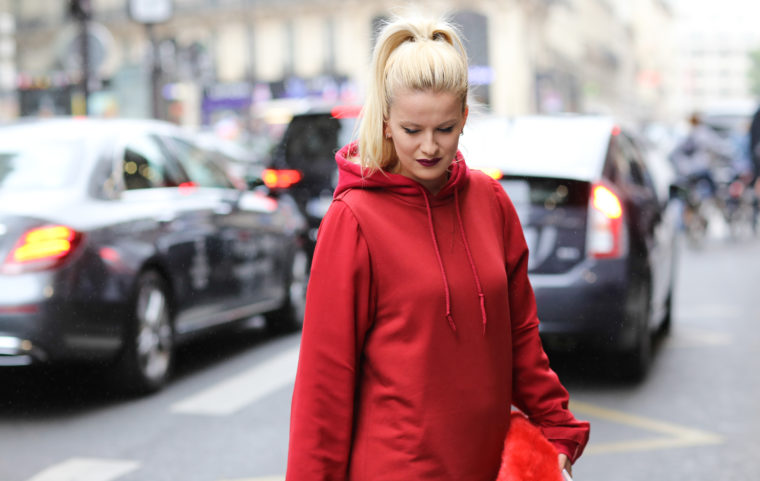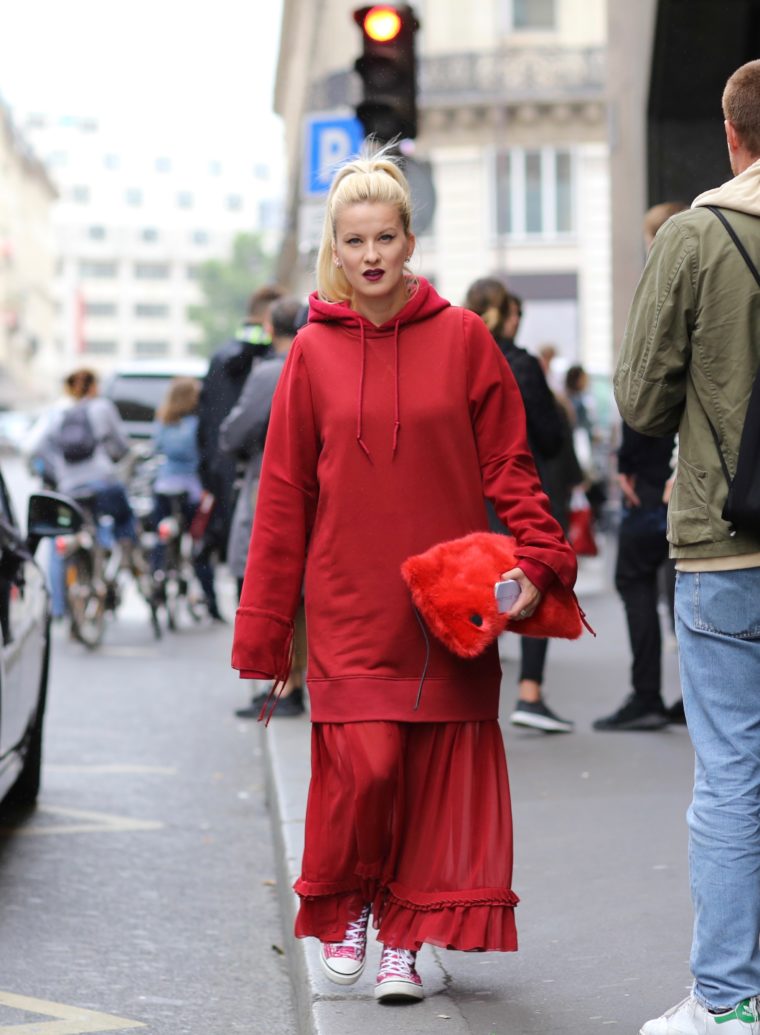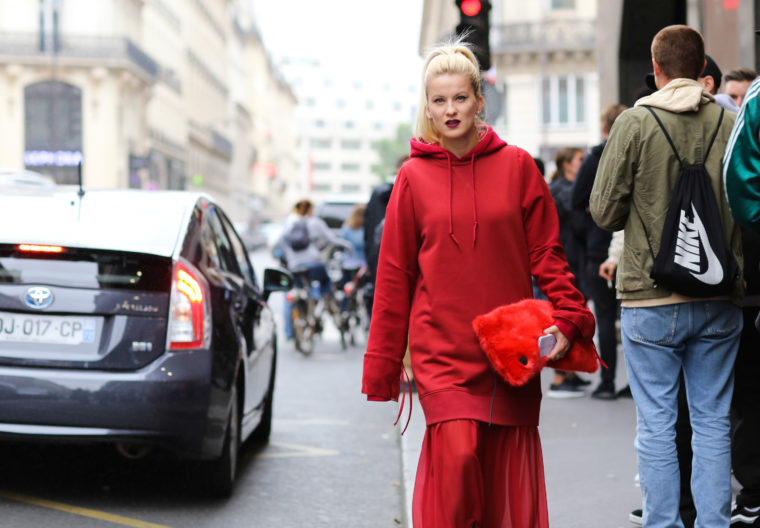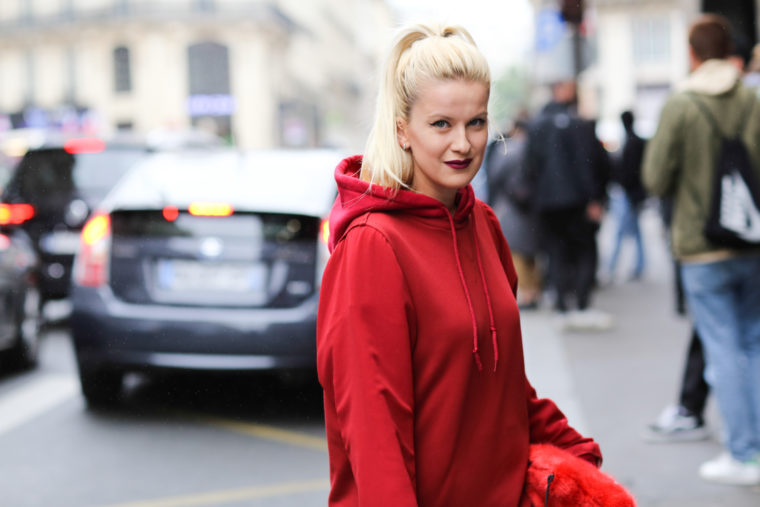 MM6
VETEMENTS
I WAS WEARING
Dress: MM6 (shop it HERE)
Hoodie: I feel like Pablo (similar HERE)
Bag: Story of Lola (similar HERE)
Shoes: Isabel Marant for H&M (similar HERE)