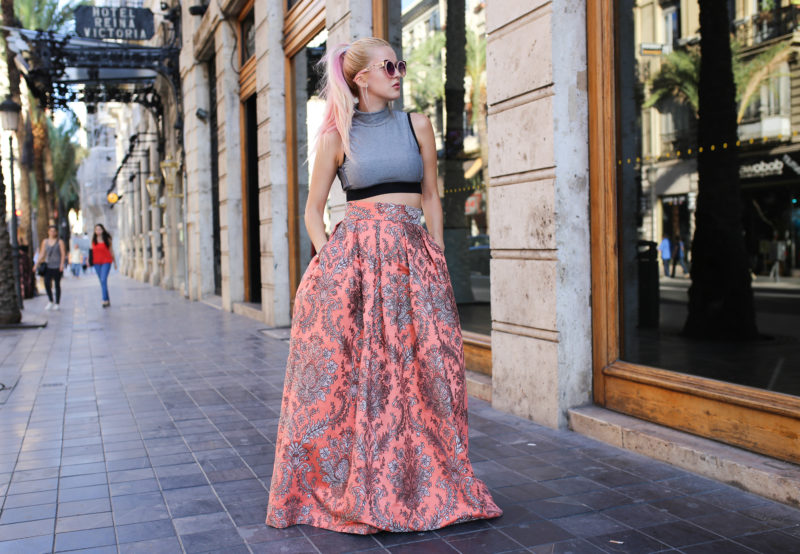 DE
Tradition spielt in der Mode schon immer eine große Rolle. Kulturelle und geschichtliche Einflüsse finden sich noch heute in der Kleidung überall auf der Welt wieder. Bei unserem BLOGWALK Trip nach Valencia haben wir ein tolles Beispiel dafür kennengelernt und ich möchte euch heute zeigen wie wunderschön die Tradition den Weg in die Moderne finden kann.
Das Label Boovier hat sich zur Aufgabe gemacht diese traditionelle Valencianische Kleidung modern zu interpretieren und somit in der heutigen Zeit tragbar zu machen. Die traditionell hergestellten Seidenkleider sind wahnsinnig aufwendig und bestechen durch moderne Schnitte und wundervoll kombinierte Farben.
In der heutigen Zeit gehen immer mehr Traditionen verloren, werden von den nachfolgenden Generationen vergessen und in der Mode z.B. durch Fast Fashion großer internationaler Modehäuser verdrängt. Das Label Boovier leistet einen wertvollen Beitrag zum Erhalt der Tradition von Valencia und wenn das Ergebnis so schön aussieht, kann man gar nicht anders als das zu unterstützen.
Tragt ihr gern traditionelle Kleidung, die euch mit eurer Kultur oder Region verbindet? Schreibt mir gern auf Snapchat oder schickt mir Bilder eurer Liebsten Kleider!
PS. Meine coole Cateye Sonnenbrille ist von GEILGEILGEIL. Dort erhaltet ihr mit dem Code PALINA15 15% Rabatt.
Fotos: Jeremy Möller von jmstreetstyles
Eure PALINA KOZYRAVA
[follow]
ENG
Tradition has always played a big role in fashion. Cultural and historical influences can still be found in clothing all over the world. During our BLOG WALK trip to Valencia we got to know a great example for that and today I want to show you how beautifully tradition can find its path into modernity.
The label Boovier has set itself the task to interpret traditional Valencian clothing, and make it viable at the present time. The silk dresses that are traditionally produced are insanely well made and have modern cuts as well as wonderfully combined colors.
In today's world traditions increasingly get lost, forgotten by subsequent generations or in fashion get displaced by fast fashion from large international fashion houses. The label Boovier makes a valuable contribution to the preservation of the tradition and if the result looks so beautiful, you can not help but to admire it.
Do you also like to wear traditional clothes, which connect you to your culture or region? Write me on Snapchat or send me pictures of your beloved clothes!
PS. My cool cat eye shade are from GEILGEILGEIL and with the discount code PALINA15 you get 15% off.
Photos: Jeremy Möller from jmstreetstyles
Your PALINA KOZYRAVA
SHOP MY LOOK