DE
Hallo ihr Lieben!
Wie Ihr besreits wisst, bin ich mit Blogwalk auf einer Road Tour unterwegs. Gloria von Robyn Byn, Luisa von Style Roulette, Alice von I heart Alice und Ich, sind nach einem gemeinsamen Tag in Paris in die Normandie gefahren, wo wir eine wundervolle und aufregende Zeit hatten und viel gedreht haben. Mehr Details findet ihr in meinen vorherigen Diary posts.
Nun kam der Tag, an dem Gloria und Ich alleine weiter ziehen mussten. Morgens haben wir uns von Luisa und Alice verabschiedet, denn für sie ging es zurück nach Hause.
Wir hingegen machten uns auf den Weg nach Belgien! Es hat in strömen geregnet in und wir hatten angst nicht drehen zu können weil so schlechtes Wetter herrschte. Das team hat sich deswegen den Bahnhof von Liège-Guillemins ausgesucht. Ich habe mich wahnsinnig über diese Wahl gefreut, da ich, immer wenn ich auf dem Weg in meine alte Heimat Paris war, so oft an diesem Bahnhof vorbei gefahren bin. Der Bahnhof ist von dem bekannten Star-Architekt Santiago Calatrava entworfen worden und ich habe mir schon immer gewünscht dieses Bauwerk einmal außerhalb des Zuges sehen zu können! Dieser tag war nun gekommen! Es war eine so tolle Location an der wir an diesem Tag ausnahmsweise einzeln gedreht haben. Ich durfte die Treppen hoch und runter laufen, meine haare im wind wehen lassen und möglichst cool in die Ferne blicken :). Ich hoffe es ist mir halbwegs gelungen haha! Was meint ihr? Schaut euch die Bilder an und schreibt mir eine Nachricht oder einen Kommentar wenn ihr mögt!
In meinem letzten Diary Post erzähle ich euch vom aufregenden Dreh in den Grachten von Amsterdam, also: Stay tuend!
ENG
Hello my Dears!
As you might already know, we are on a Road Tour with Blogwalk in order to shoot a national TV Spot for our upcoming project. Gloria of Robyn Byn, Luisa of Style Roulette , Alice of I heart Alice and I had a day together in Paris and left afterwards towards the Normandy. There we had a wonderful and exciting time and surely the team has made a lot of great pictures. More details can be found in my previous posts of the Diary.
Sadly, the day came, when Gloria and I had to move on alone. In the morning we said goodbye to Luisa and Alice, because for them it was time to travel back home.
We, however, were on ​​our way to Belgium! It was raining 24/7 and we were afraid not to be able to shoot, simply because of the bad weather. Nevertheless the team found a solution. They chose the train station of Liège-Guillemin. I was crazy happy about this choice, as I often drove by this train station, every time I was on my way to my old home of Paris. The station has been designed by the famous architect Santiago Calatrava and I always wanted to see this building from outside the train! This day had come! It was such a great location and unlike the days before we had the chance to shoot individually. I had to run the stairs up and down, let the wind blow through my hair and make the coolest impression I possibly could :). I hope I halfway succeeded haha! What do you think? Look at the pictures and leave a message or comment if you like!
In my last diary post, I'll tell you the thrills of filming in the canals of Amsterdam.
So: Stay tuned!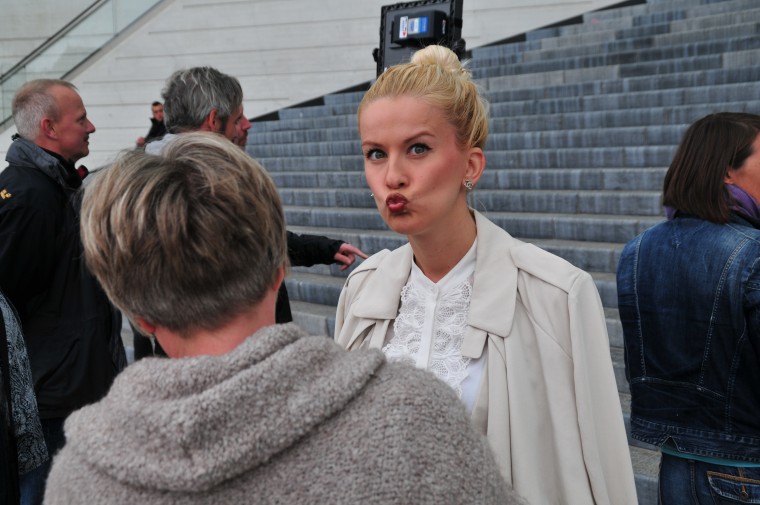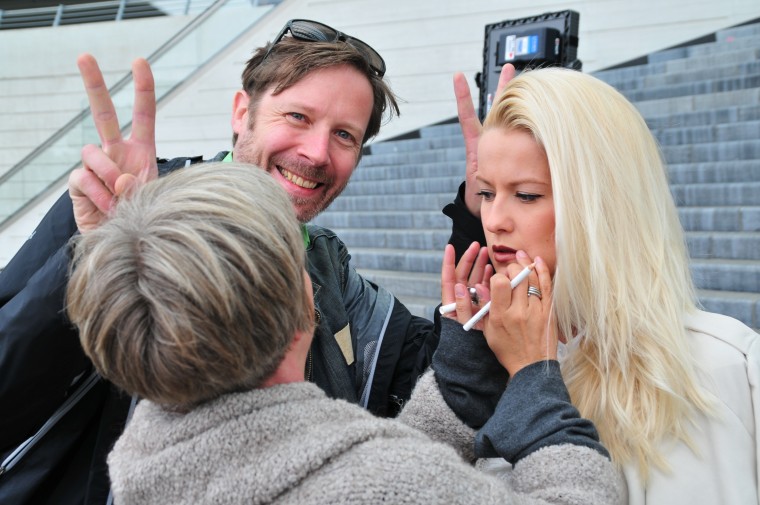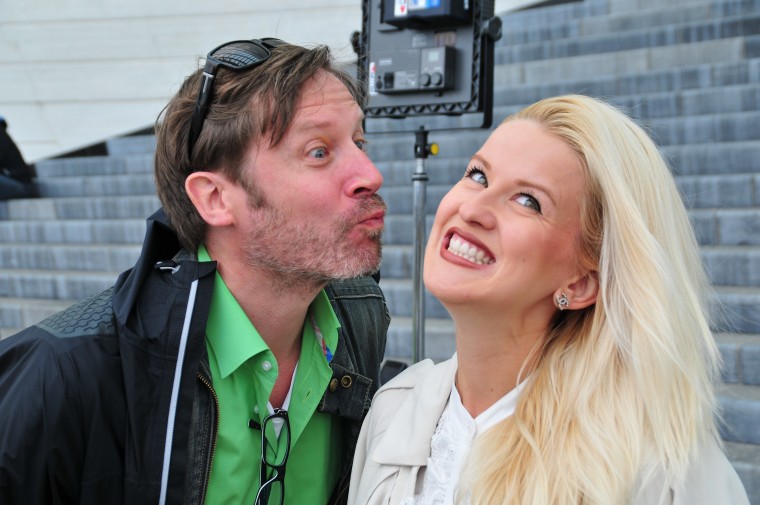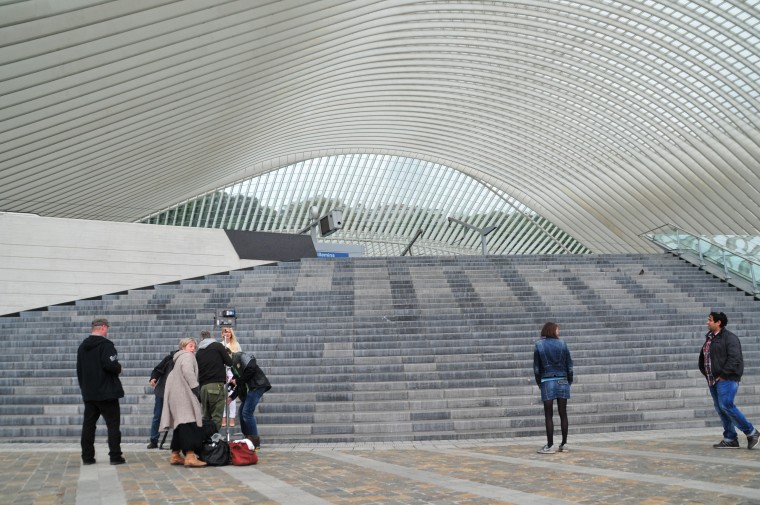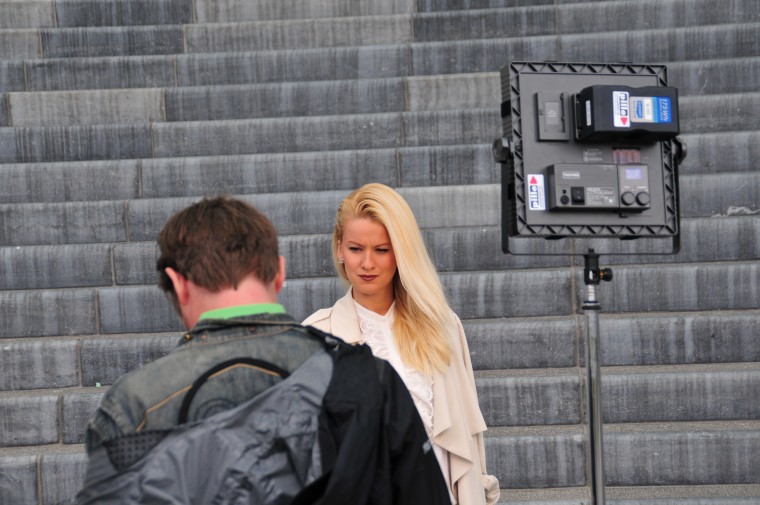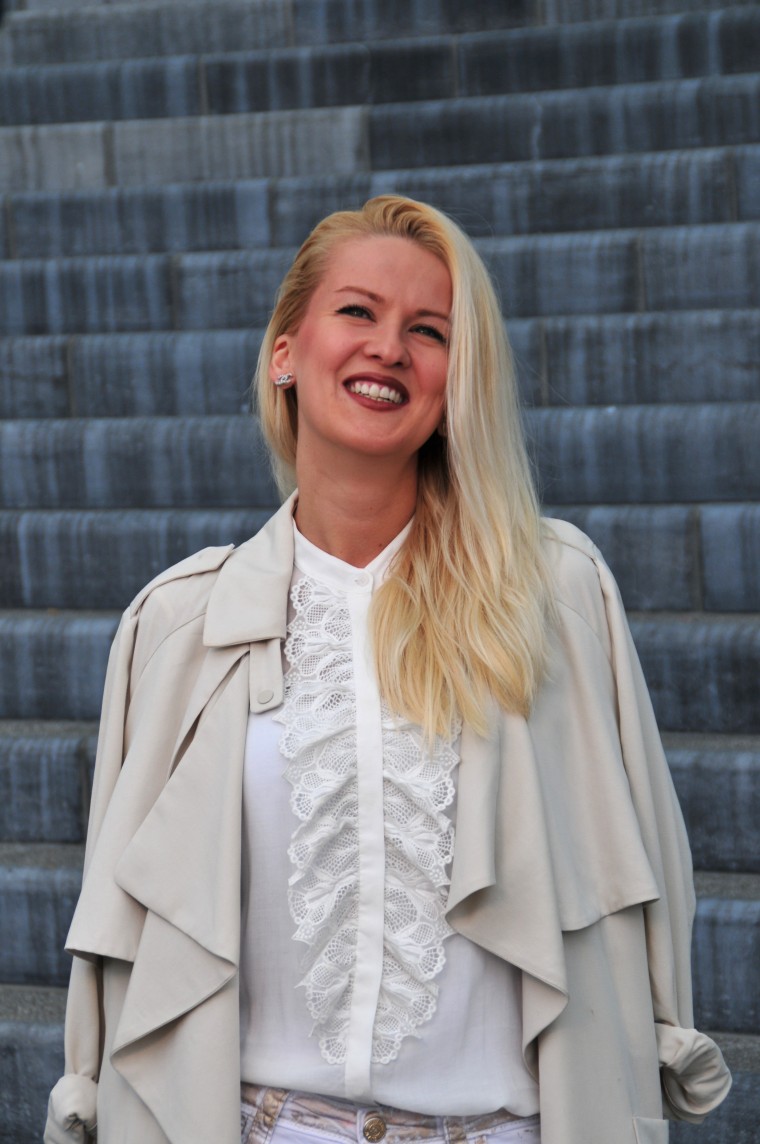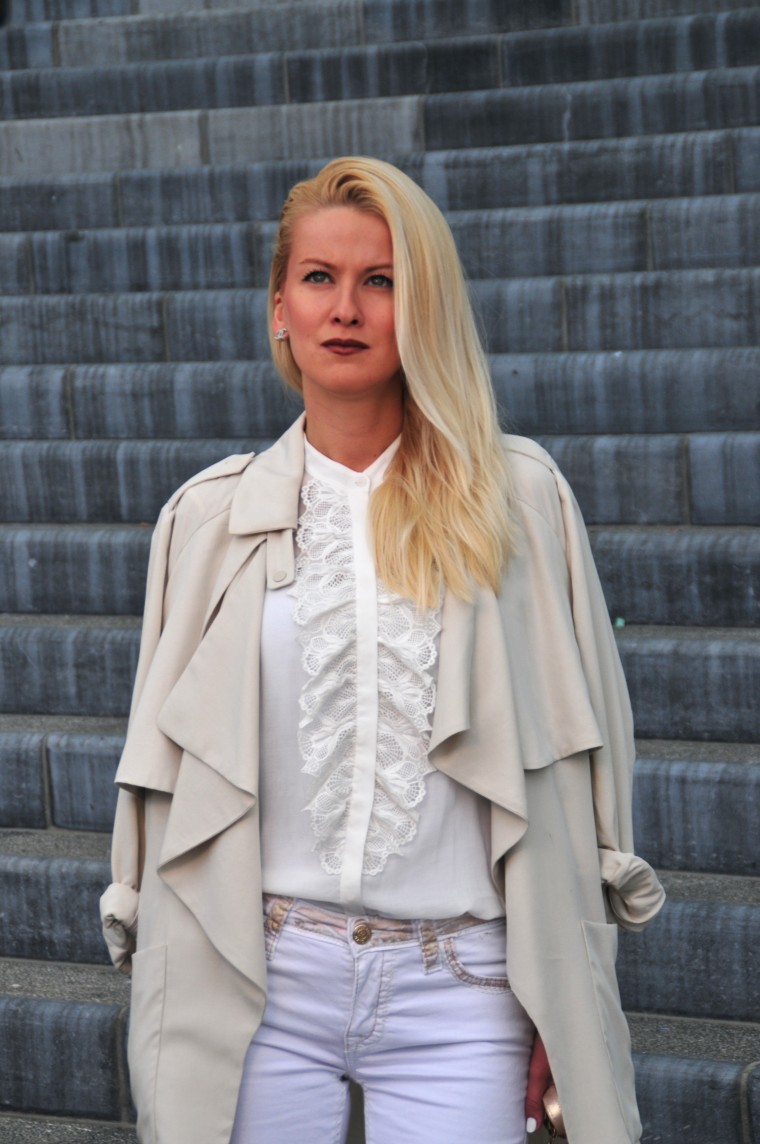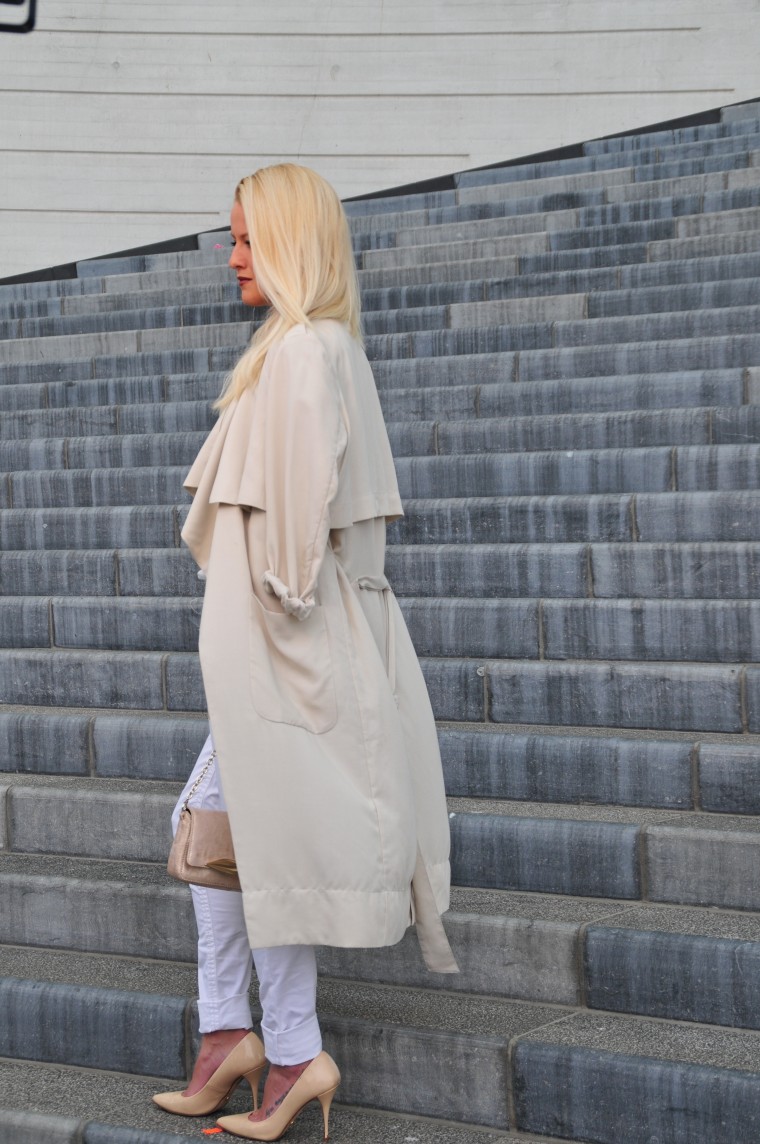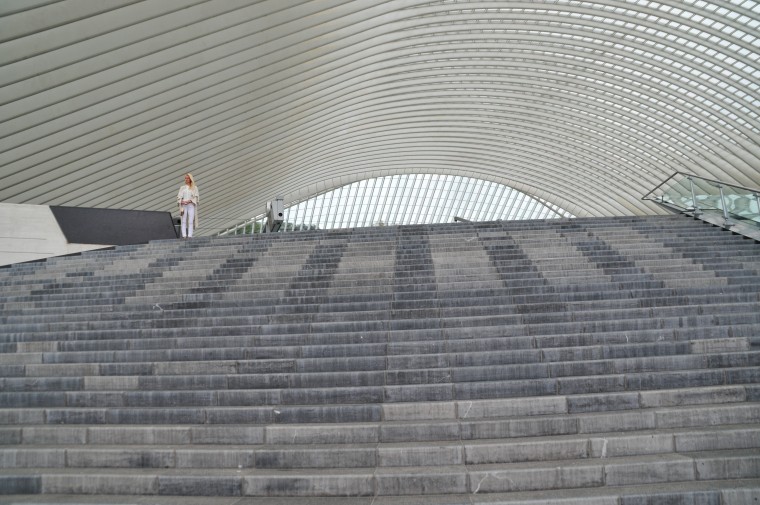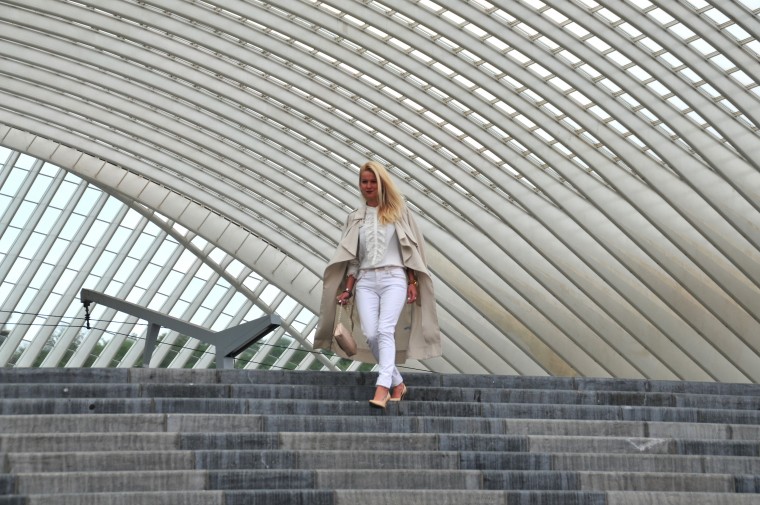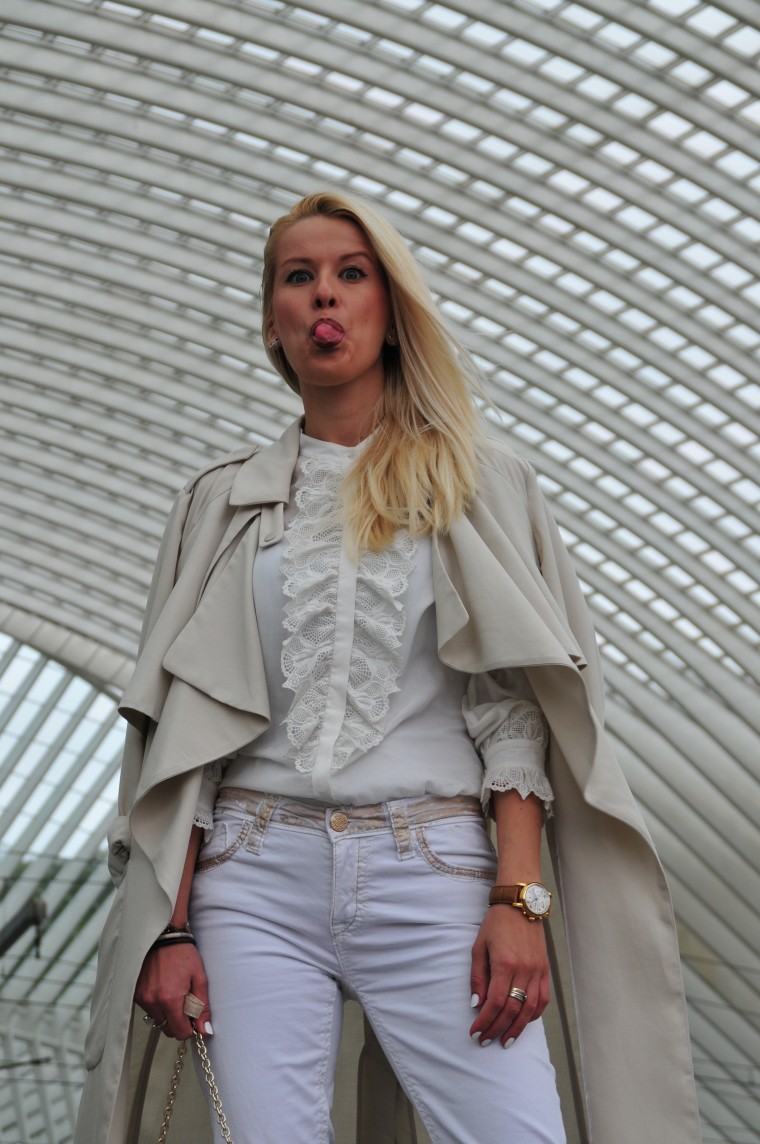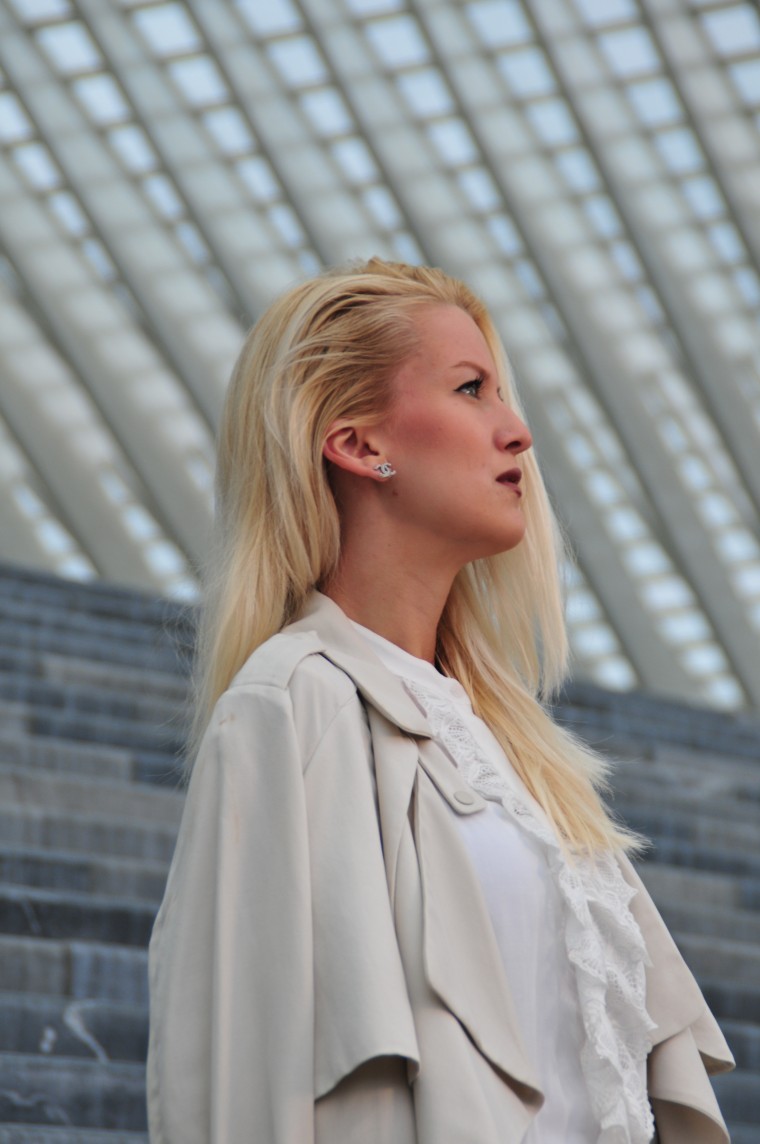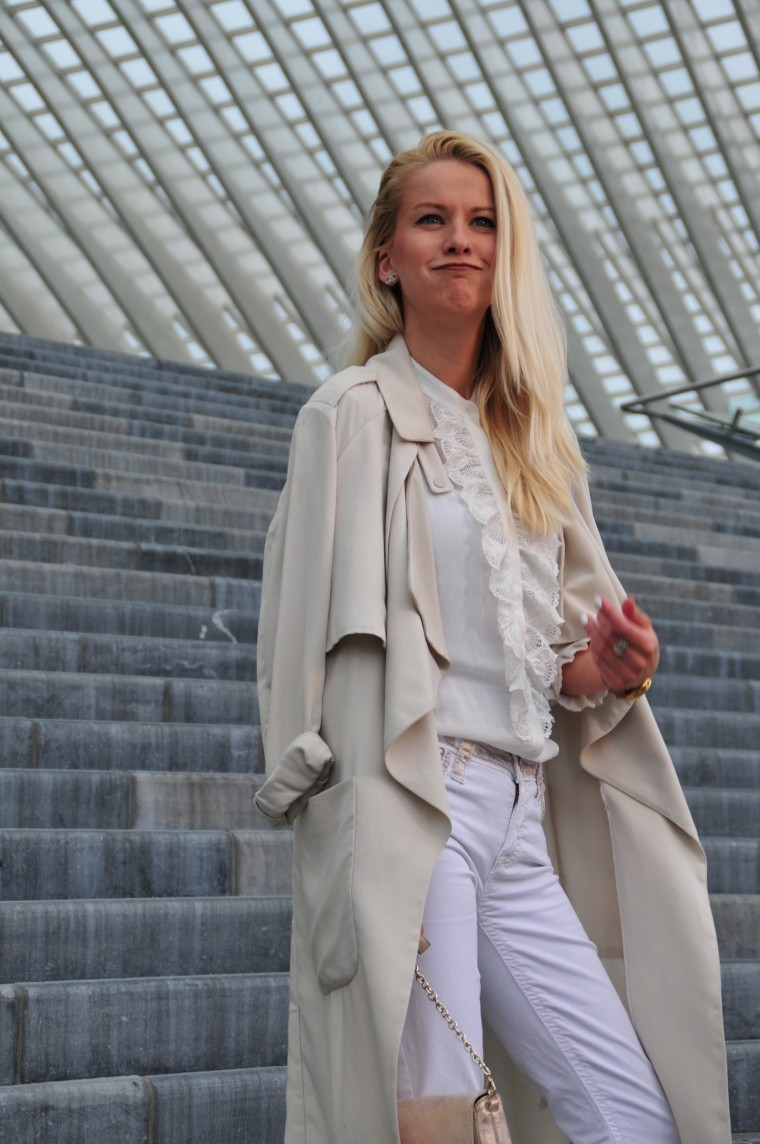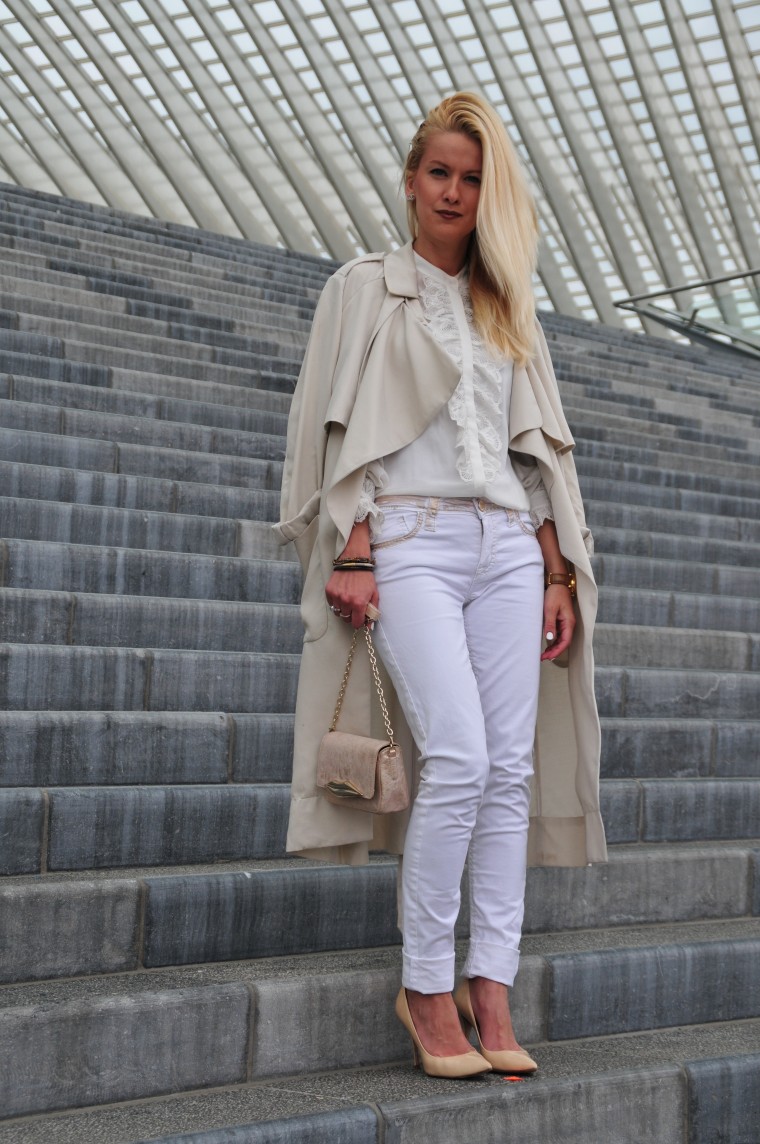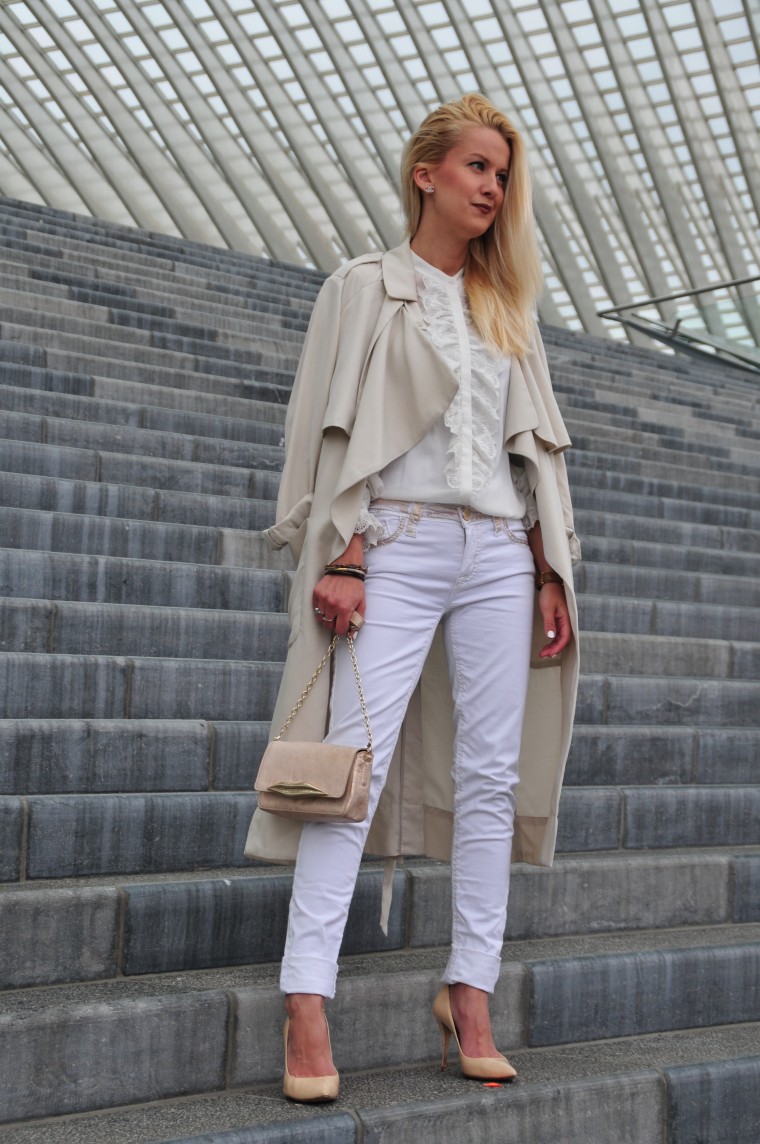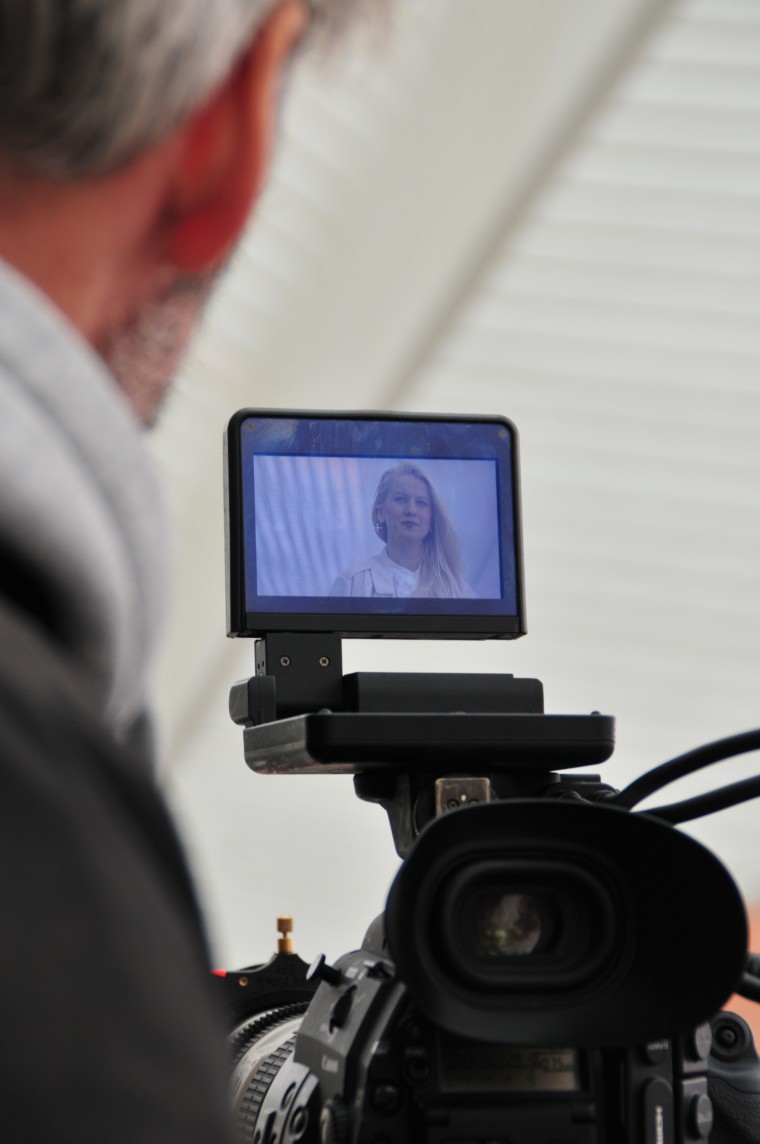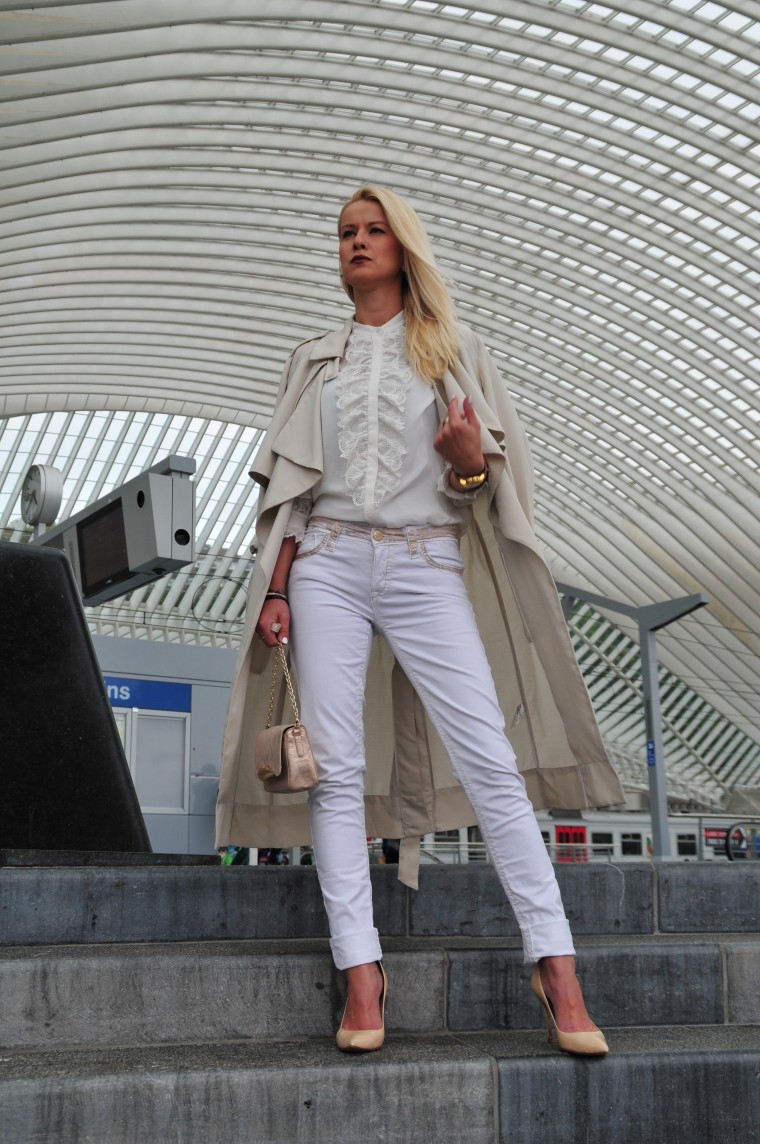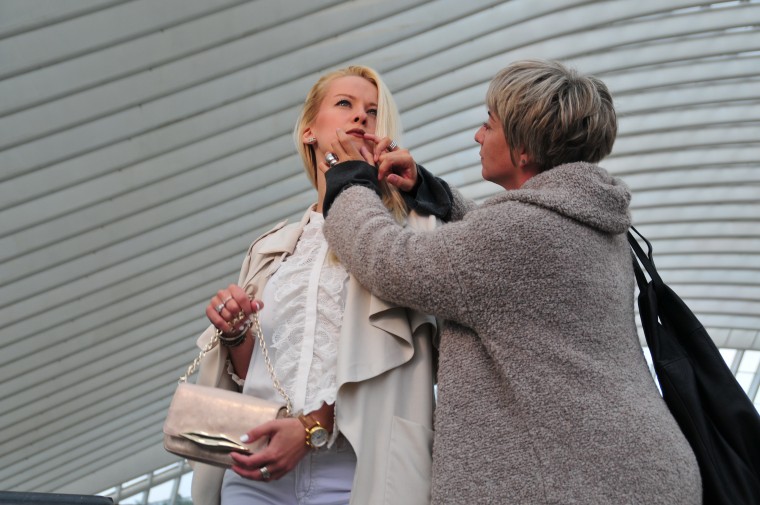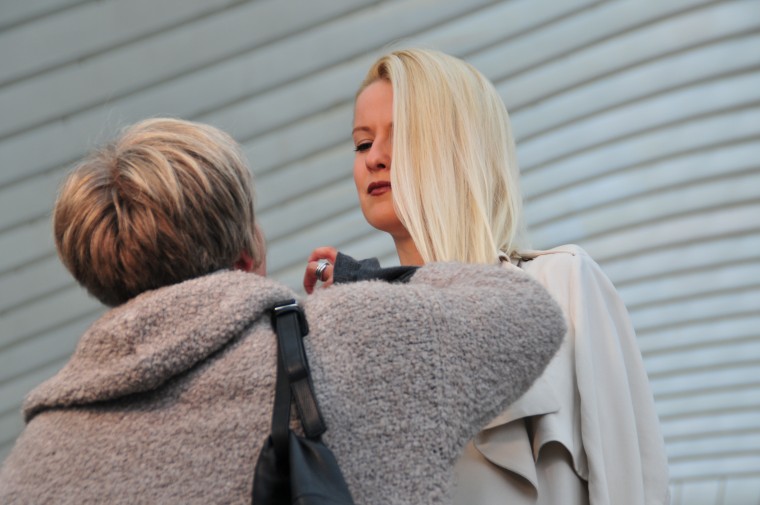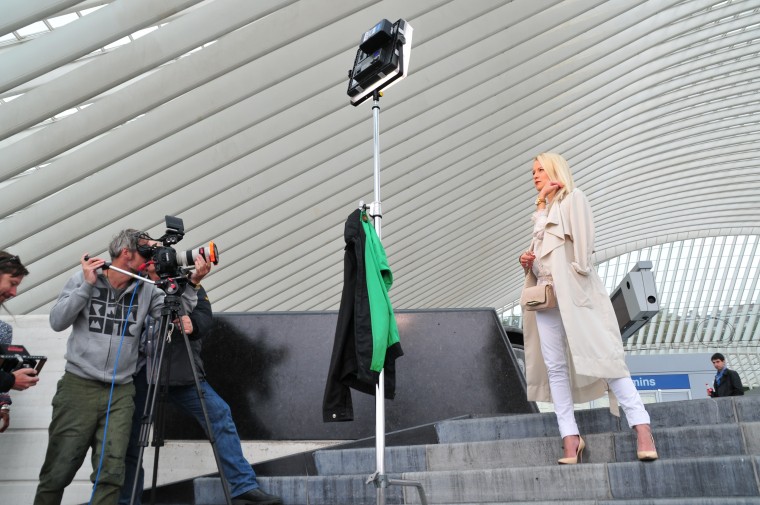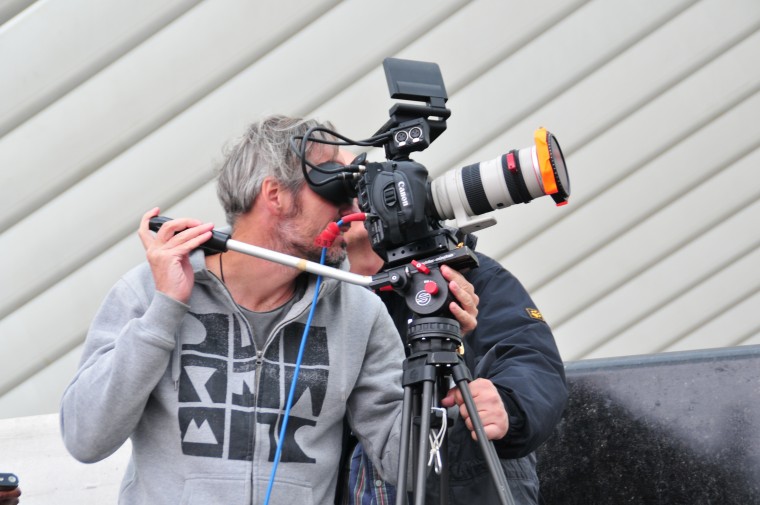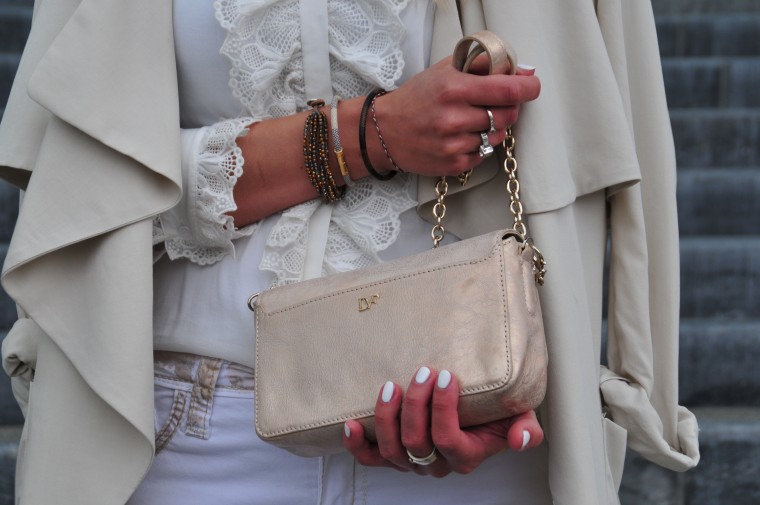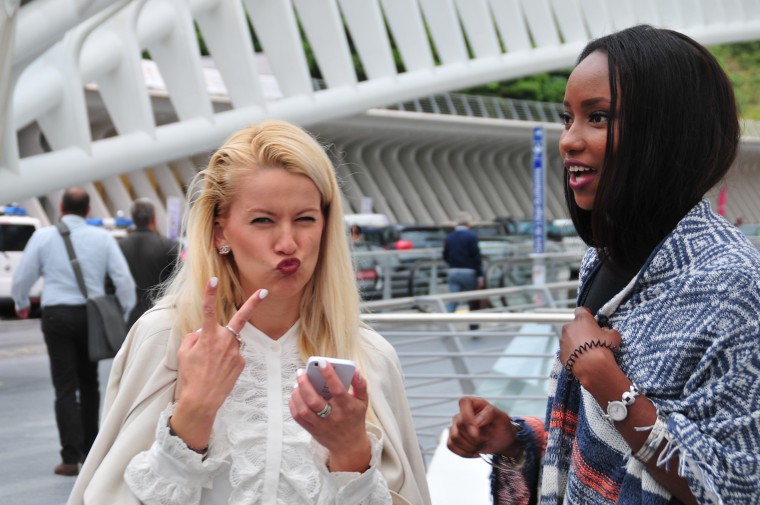 Ich trug: 1. Trench: H&M, 2. Bluse: H&M Spring Collection 2014, 3. Weiße Jeans: Blue Fire Co., 4. Schuhe: Massimo Dutti, 5. Tasche: Diane von Furstenberg, 6. Armcandy: Louis Vuitton, DEYK, 7. Uhr: Montblanc

I was wearing: 1. Trench: H&M, 2. Blouse: H&M Spring Collection 2014, 3. White Jeans: Blue Fire Co., 4. Shoes: Massimo Dutti, 5. Bag: Diane von Furstenberg, 6. Armcandy: Louis Vuitton, DEYK, 7. Watch: Montblanc