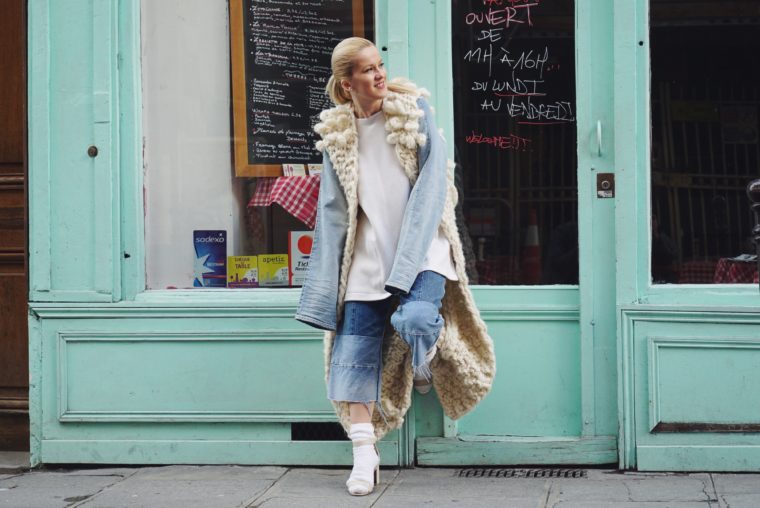 DE
Ein beliebter Marketingspruch lautet: Think local, act global. Heute möchte ich diesen leidlich gehörten Spruch umdrehen und Euch ein Deutsches Label vorstellen, dass mir sehr gefällt.
Auch wenn ich mir vor Allem in Paris Inspirationen für die nächsten Trends hole, haben wir tolle Designer in Deutschland, die insbesondere durch ihre Qualität überzeugen können. Allude ist so ein Deutscher Designer, der sich durch seine atemberaubende Qualität auszeichnet.
Als ich Allude im Pariser Showroom meiner Agentur entdeckte war ich direkt Feuer und Flamme und möchte Euch heute eine Kombination aus langer Kaschmir-Weste und einem Kaschmir Pullover mit Jeans-Ärmeln präsentieren. Dazu trage ich eine Jeans Culotte und (ganz unkonventionell) offene Absatzschuhe mit Socken.
Ich liebe diesen qualitativ hochwertigen und dennoch sehr trendigen Style!
Gefällt er Euch?
Die Fotos wurden übrigens mit der tollen Sony Alpha 7s gemacht.
Eure PALINA KOZYRAVA
ENG
"Think local, act global" is a popular marketing slogan. Today I want to turn this tolerably heared saying around and would like to present a great German label that I adore.
Even if I get most of my inspiration for the next trends in Paris, we have great designers in Germany, which can especially convince through their amazing quality. Allude is a German designer, which is mainly characterized by its stunning quality.
When I discovered Allude in the Paris Showroom of my agency I was just fired up. Therefore I am glad to present you a combo of a cashmere sweater with jeans sleevesand a long cashmere vest. I am also wearing a jeans culotte and (unconventionally) open heel shoes with socks.
I love this high quality yet very trendy style!
Do you share my passion for this outfit?
The photos were taken with the amazing Sony Alpha 7s.
Your PALINA KOZYRAVA
SHOP MY LOOK