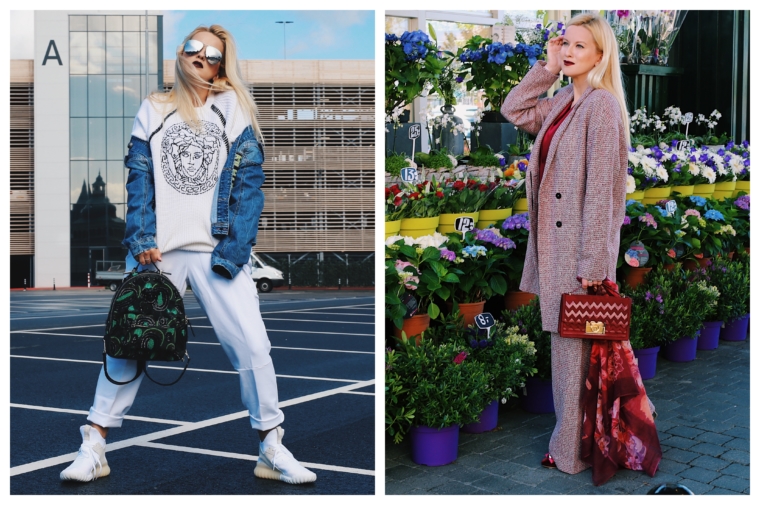 DE
Der Herbst ist da, irgendwie zu schnell für mich – aber wenigstens bietet das die Gelegenheit neue Looks auszuprobieren und die aktuellen Herbst Winter Trends aufzugreifen ;). Anfang der Woche war ich in Roermond im McArthurGlen Designer Outlet und hatte dort die Gelegenheit, die neusten Trend für den Herbst zu sehen und für euch in 2 schöne Styles zusammenzufassen.
Ich habe für euch einen sehr streetigen Style sowie einen femininen Anzug-Look zusammengestellt. Beide Looks sind hochwertig und mit schönen Accessoires veredelt.
ENG
Autumn is here, somehow too fast for me – but at least it offers the opportunity to try out new outfits and pick up the current Fall/Winter trends ;). Earlier this week, I was in Roermond at the McArthurGlen Designer Outlet, where I had the opportunity to see the latest trends for the fall and to put it into 2 nice styles for you.
I have compiled a very streety style as well as a powerful suit-look. Both styles are high quality and refined with beautiful accessories.
---
ELEVATED STREET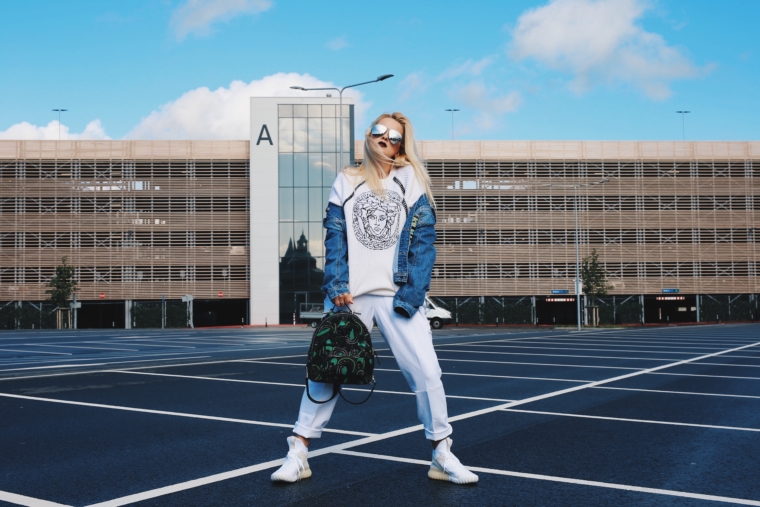 DE
Dieser Elevated Street Style ist typisch Palina. Ein high end Street Style, der gewagt aber eben auch sehr im Trend liegt. Center Piece ist definitiv die angesagte Jeansjacke mit aufgenähten Patches von Philipp Plein. Dazu komplett verspiegelte Pilotenbrille in Silber ebenfalls vom Deutschen Designer. Darunter trage ich einen weißen Pullover auf dem die Weltberühmte Medusa von Versace zu sehen ist (in XXL versteht sich ;)). Der gleiche Medusakopf findet sich auf meinem Grün-Schwarzen Versace Rucksack wieder, der durch die ausgefallenen Nähte ein besonderer Hingucker ist! Der Rest des Looks ist sportlich-lässig gehalten: Eine einfache weiße Track Pants und schneeweiße High Tops von Adidas.
ENG
This Elevated Street Style is just typically Palina. A high end street style that is daring but also very trendy. Centerpiece is definitely the hip jeans jacket with sewn patches by Philipp Plein. The completely mirrored pilot's shades in silver are also from the German designer. I am wearing a white sweater on which the world-famous Medusa of Versace can be seen. The same Medusa head is to be found on my Green-Black Versace backpack. The rest of the look is sporty casual: Simple white track pants from and snow white high tops from Adidas.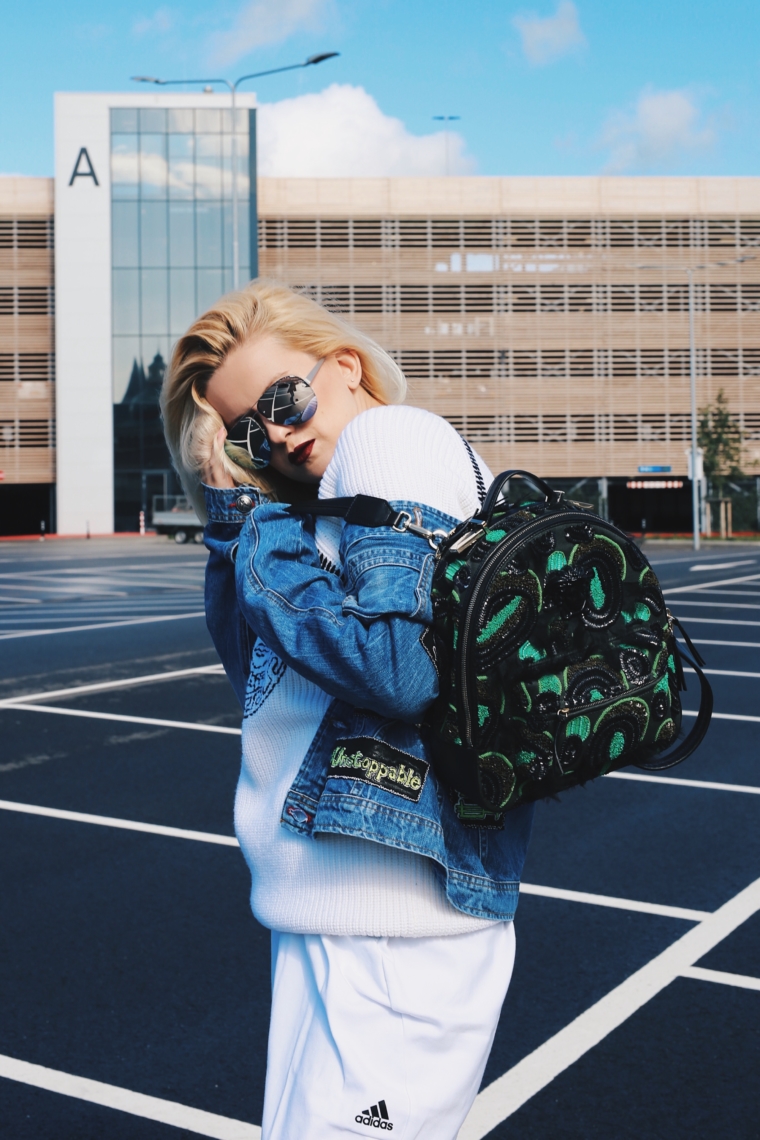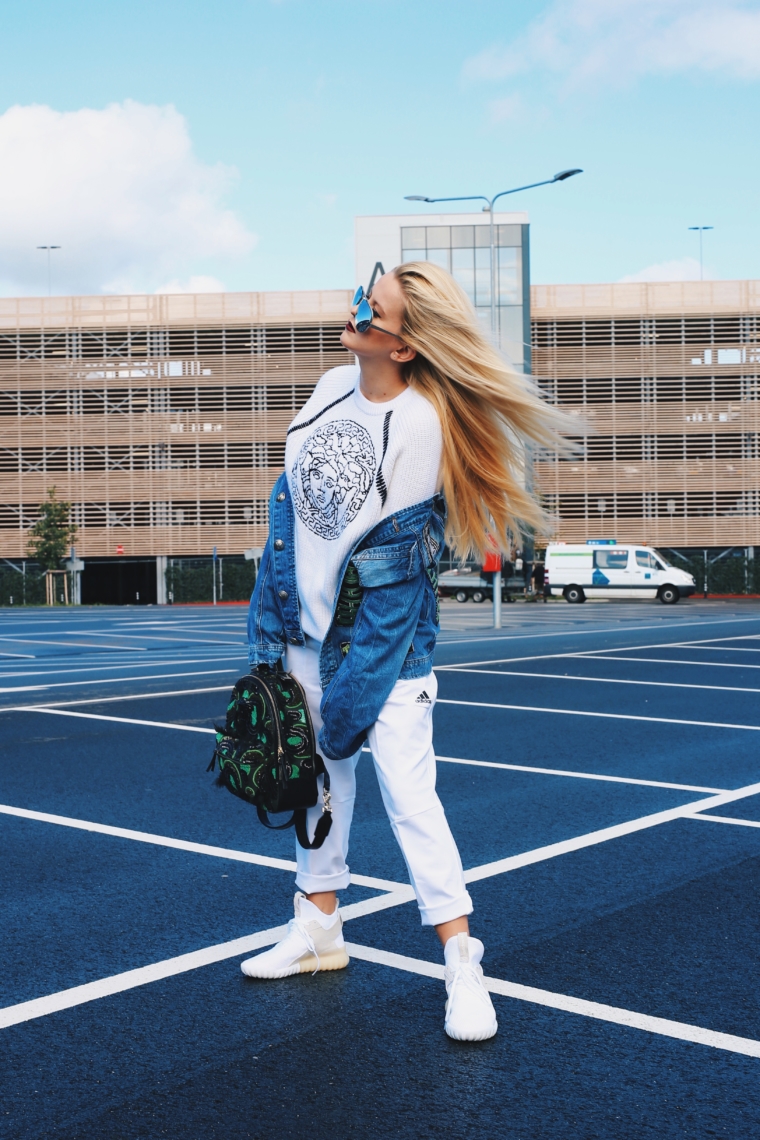 ---
SARTORIAL SHAPES
DE
Dieser zweite Herbst Look könnte unterschiedlicher kaum sein. Ich liebe generell wie Mode es einem ermöglicht in völlig unterschiedliche Rollen zu schlüpfen! Sartorial Shapes steht für ein power dressing, inspiriert von Männer Mode und doch sehr feminin interpretiert. Klassisch hochwertige Materialien treffen auf einen graden angesagten Schnitt. Mein weiter Mantel und die Hose sind von Strenesse. Das Multilayer Kleid in Bordeaux-Rot, sowie Tasche, Seidentuch und Schuhe in der gleichen Farbe sind von Salvatore Ferragamo, einem meiner absoluten Lieblingsdesigner. Der Look besticht durch seine graden Schnitte und der Style ist sowohl Büro also auch Freizeit tauglich. Besonders die Tasche hat es mir persönlich sehr angetan und hat es auf meine geistige Most Wanted Liste geschafft.
ENG
Sartorial Shapes stands for a powerdressing, inspired by men's fashion and yet very feminine. Classically high-quality materials meet the most stringent cut. This second autumn look could hardly be more different. I generally love how fashion makes it possible to slip into completely different roles! My fur coat and trousers are from Strenesse. The Multilayer dress in Bordeaux-red, as well as the bag and shoes in the same color are from Salvatore Ferragamo, one of my absolute favorite designers. The look impresses with its straight cuts and the style is suitable both for your office and leisure time. Especially the bag made it to my mental "Most Wanted" list.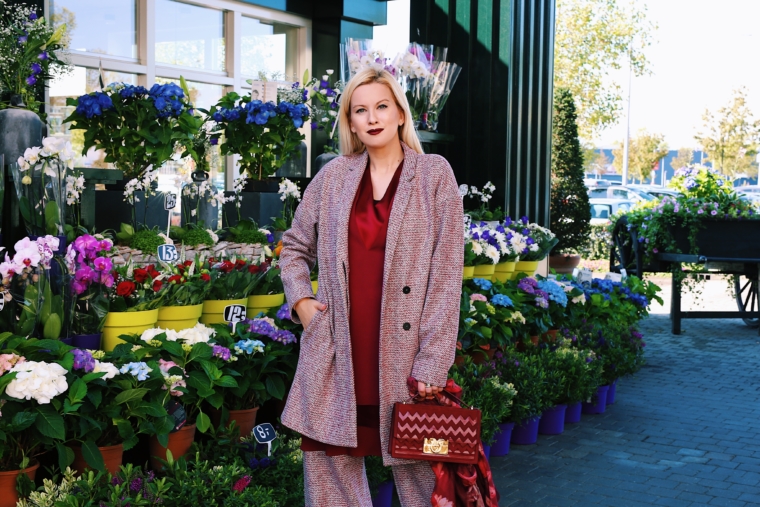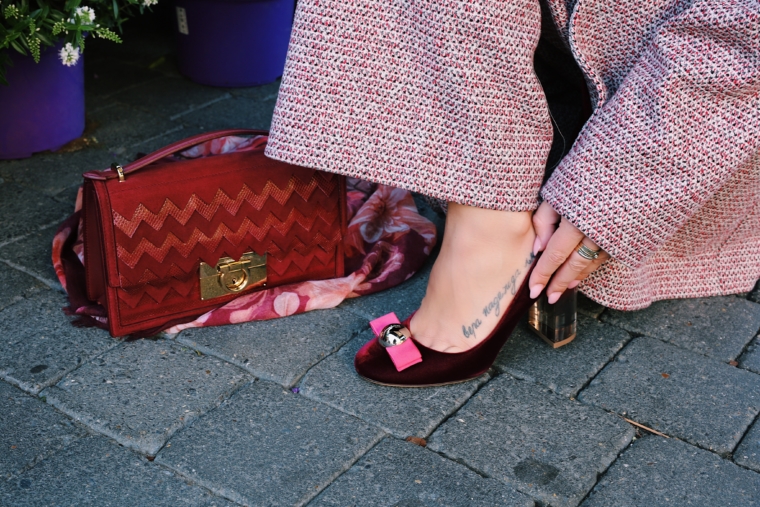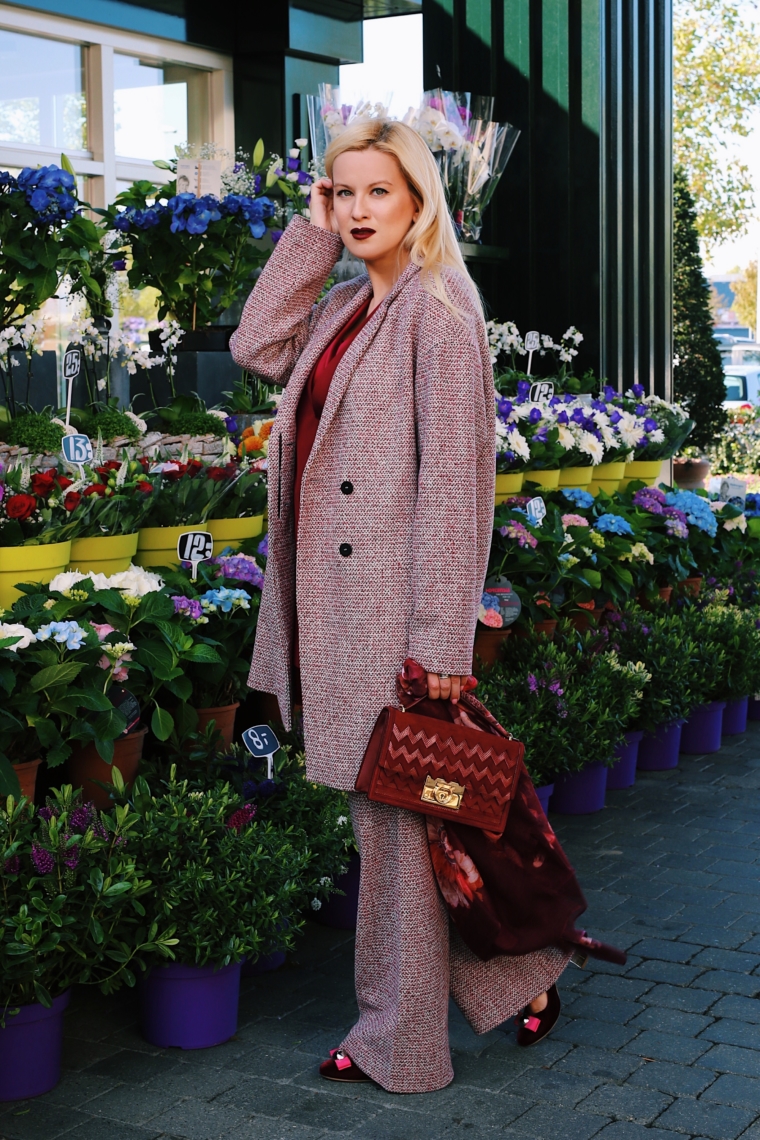 ---
DE
Gefallen euch die Styles? Braucht ihr noch Herbst Winter Kleidung? Das Roermond Outlet ist für mich immer eine super Möglichkeit tolle Schnäppchen von großen Designern zu machen.
Im Outlet in Roermond findet aktuell übrigens auch ein sehr cooles VIP Event statt! Prosecco, Softdrinks, cooles Ambiente und ein ausgestellter Diamant für sage und schreibe 1 Million Euro bringen einen in Shoppinglaune! HIER könnt ihr euch kostenlos dafür registrieren.
Eure PALINA KOZYRAVA
ENG
Do you like the styles? Do you still need autumn winter clothes? The Roermond Outlet is for me always a great opportunity to make great bargains of great designers.
At the Outlet in Roermond there is also a very cool VIP event! Prosecco, soft drinks, cool ambience and an outstanding diamond for literally 1 million Euros that you can see there. Perfect prep for a shopping spree! HERE you can register for the VIP Event for free!
Your PALINA KOZYRAVA